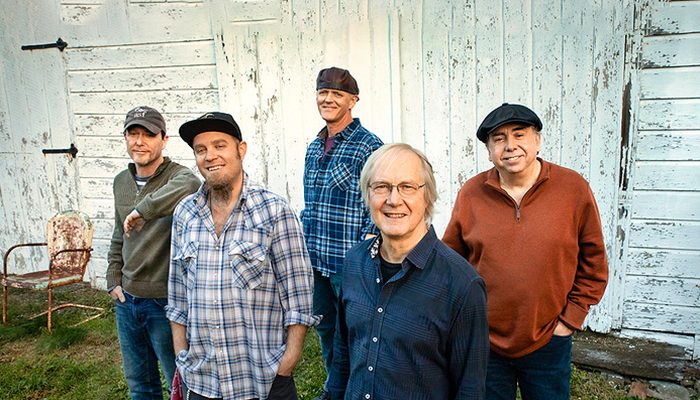 "keep The Band's flame burning brightly while retaining their own originality." – Americana UK
The Weight Band presents a dynamic set of classic Americana that draws upon roadhouse rock, funky swamp pop, blues, country soul and folk music. Composed of bandleader, renowned guitarist Jim Weider (The Band, Levon Helm's Midnight Ramble Band, Jim Weider Band), keyboardist Brian Mitchell (Levon Helm's Midnight Ramble Band), bassist Albert Rogers (Jim Weider Band, Jimmy Vivino), drummer Michael Bram (Jason Mraz), and keyboardist Matt Zeiner (Dickey Betts), the veteran quintet shares a deep appreciation and knowledge for this music, which Weider describes as the "Woodstock Sound." The Weight Band continues to serve as its torchbearer, with every show representing a sublime example of these masterful roots musicians at work.
The Weight Band's origins are tied to Woodstock and some of its most famous inhabitants, The Band. Weider, a Woodstock native, served as The Band's lead guitarist from 1985-2000, following Robbie Robertson's departure. In the late 2000s, he replaced Jimmy Vivino in the Levon Helm Band, which already included Mitchell. The connections extend further, as Rogers shared the stage with Helm and Hudson while in The Jim Weider Band and Bram drummed in the Chris O'Leary Band, an off-shoot of Helm's band The Barnburners.
While The Band along with Dylan played a large role in making Woodstock a launching point for what is now called Americana, native son Weider points out the town also had a diverse music scene in the 70s. It was home to performers like blues harp man Paul Butterfield, jazz saxophonist David Sanborn, traditional folkies Happy and Artie Traum, New Orleans-bred singer Bobby Charles and bluegrass troubadour John Herald. This musical melting pot all contributed to the Woodstock Sound.
LEARN MORE: https://www.theweightband.com/