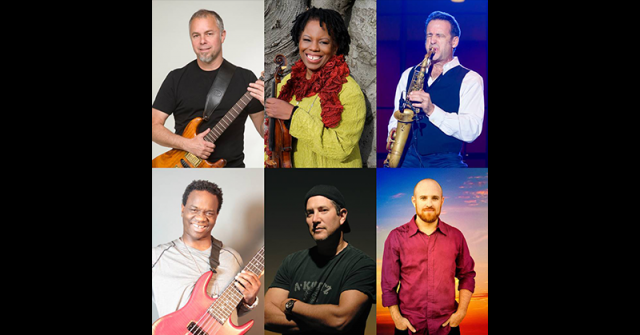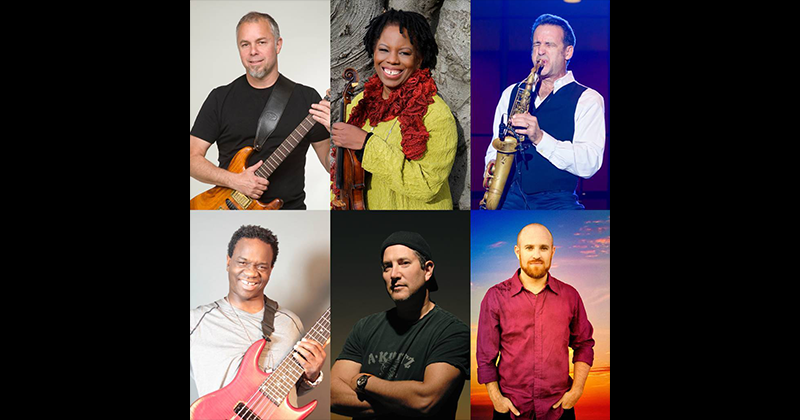 Coming Jan 10 to the Dakota >>
Seminal contemporary jazz super group Special EFX marks their 36th year of recording and touring in 2018 with last year's release of Deep As The Night, their 21st studio recording, and first celebrating their recent partnership with the Trippin 'N' Rhythm record label. Formed in 1982 the as the brainchild of the duo of guitarist Chieli Minucci and percussionist George Jinda, the combination of Chieli's edgy and melodic driving style and George's sense for temperament and rhythm struck a perfect balance, and the rise of a distinctive new and original sound that incorporated heavy percussive world elements fused with smart, energetic, playful and memorable guitar lines was formed.
Chieli Minucci, now the leader and driving force behind the band, has recorded and performed over the years with some of pop music's biggest: Celine Dion, Lou Reed, Lionel Richie, Jennifer Lopez, Michael Bolton, Marc Anthony as well as some of the jazz genre elites, from Jeff Lorber to Kirk Whalum. Honored with a Grammy nomination for their Modern Manners CD, 3 Emmy wins and 10 nominations for his compositional work on The Guiding Light, his works in both film and television are well recognized, writing and contributing music to Dancing With The Stars, American Idol, Good Morning America, as well as soundtracks for No Country For Old Men, Bowfinger, Legally Blonde, and Panic.
"Ms. Carter is widely considered the finest jazz violinist of her generation, a hard-charging soloist whose precisely focused tone and graceful way with a ballad hint at her long years of classical training. " – The New York Times. Violin virtuoso Regina Carter is a MacArthur Fellow (and a recipient of the famed "genius grant"), drawing from a diverse well of influences which include classical, jazz, Motown, swing, funk, and world music among others. Carter was born in Detroit and began studying piano at age two before taking up the violin. Her earliest training was in classical music,  but an interest in jazz eventually took over and she became known as a master of improvisational jazz violin. Though her work draws upon a wide range of musical influences, she has crafted a signature voice and style. Carter's performances highlight the often overlooked potential of the jazz violin for its lyric, melodic, and percussive potential. With her 2017 album "Ella: Accentuate the Positive" Carter has mined tunes from deep within Ella Fitzgerald's bountiful catalog, and brought them to the surface with a distinct freshness. The reward is rich for the listener.
Saxophonist Eric Marienthal started his professional career in 1980 with famed New Orleans trumpeter Al Hirt. After returning to Los Angeles, Eric became a member of the Chick Corea Elektric Band. He recorded six albums with that band and two of them won Grammy Awards. Six of the songs that Marienthal has recorded have made it to the top 10 of the National Contemporary Jazz Radio Charts and two have made it to No. 1. His Oasis album hit the top 5 on the Billboard Contemporary Jazz Chart. Shortly after that, he was voted one of the year's "Favorite Alto Sax Players" in Jazziz magazine's Readers' Poll. Marienthal has also written instructional books, including Comprehensive Jazz Studies & Exercises, The Ultimate Jazz Play Along, and The Music of Eric Marienthal and instructional videos, including Play Sax From Day One, Modern Sax and Tricks of the Trade.