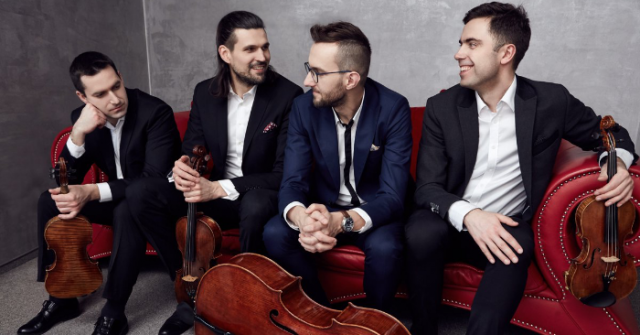 Think "jazz" and "string quartet" probably won't pop into your head. Though Turtle Island Quartet plays jazz, and the Harlem String Quartet, and Kronos has played it, most string quartets are classical. The Atom String Quartet plays mainly jazz. That's one surprising thing about them. Another? They're Polish. In March 2019, the Polish-American Cultural Institute of Minnesota (PACIM) brought them here for a performance in Orchestra Hall's Target Atrium. They're now on their second American tour, with stops in San Francisco and Jazz at Lincoln Center. The Atom was formed in Warsaw in 2010; all four members graduated from the Frederic Chopin University of Music. They have since played with top orchestras – and with artists including Branford Marsalis and Bobby McFerrin. Catch them in our part of the world. -PAMELA ESPELAND
READ FULL MINNPOST ARTICLE HERE >>
Don't expect Beethoven or Brahms when this Polish group takes the stand. They're jazz players who embrace improvisation, while also drawing on folk music as well as the work of contemporary classical composers.
READ FULL STAR TRIBUNE ARTICLE HERE >>
Despite its instrumentation (classical) and nation of origin (Poland), Atom String Quartet focuses on jazz and improvisation. Violinists Dawid Lubowicz and Mateusz Smoczyński, violist Michal Zaborski, and cellist Krzysztof Lenczowski formed the band in Warsaw in 2010, and from their jazz nucleus, the virtuosi radiate classical fusions laced with folk, blues, and global roots. They mix covers of fellow Poles Zbigniew Seifert and Krzysztof Penderecki in with their originals, and the results can be explosively avant-garde, lyrical and serene, or fiercely swinging.
READ FULL CITY PAGES ARTICLE HERE >>
TUE JAN 7 • 7PM • GET TICKETS HERE >>