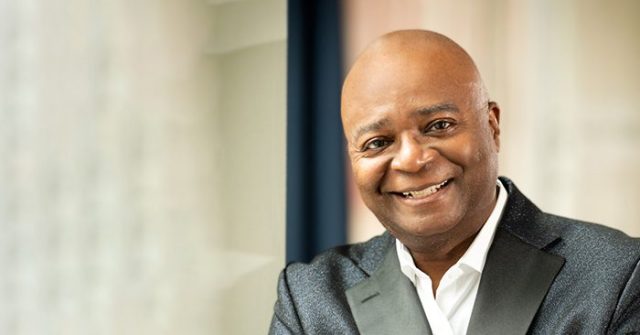 Master vocalist and storyteller Bruce A. Henry returns to Dakota Jazz Club in Downtown Minneapolis July 22.
Known as a "man of great musical imagination," Bruce A. Henry is an internationally known vocalist, composer, storyteller, recording artist and educator. A man of great musical knowledge, Henry teaches musical history, traditions and culture as he entertains and enraptures audiences with his vocal agility. Anchored in Chicago, Illinois, with strong ties to the Twin Cities, Minnesota, Henry shares his expertise and musical creativity across the nation and overseas.
Bruce Henry is a singer and band leader with a long history of stellar jazz concerts, moving R&B shows and revered tribute performances. Honoring the likes of Stevie Wonder, Al Jarreau, Marvin Gaye, Ray Charles, Duke Ellington and George Gershwin, his tribute shows entertain audiences with inspired interpretations of classics. As a vocalist extraordinaire, he handles an eclectic mix of styles with ease.
Both his voice and mind are treasures. A concert, residency or workshop with Henry leave you lifted, enriched and energized from his performance and more knowledgeable, reflective and inspired from his innate ability to teach. Henry teaches with The Evolution of African American Music, a program he developed consisting of residencies, informative concerts and published curriculum.
​A baritone, whose three-and-a-half octave range allows him to sing tenor, alto and falsetto, Henry has a pure voice with a versatility few can match. His music has taken him to five continents. He has recorded for Disney, HBO and numerous national ad campaigns. He has performed with and opened for the likes of Doc Severinson, Roberta Flack, Chris Botti, Ramsey Lewis, Stephane Grapelli, Jimmy Jam and The Sounds of Blackness.
Henry's eclectic vocal style conjures John Coltrane, Leon Thomas, Gil Scott Heron, Al Jarreau, Nina Simone and Marvin Gaye. He has a deep understanding of the connection between history, music and culture, and how generations of expression build upon one another.
Bruce Henry and the band bring the "audience" together on a musical train ride. Steeped in African American and thus African culture, Henry believes that there is no such thing as an audience.  Performances are communal experiences. Whether through call and response, singing, dancing or joining in with a shaker or bell, the communal experience of song is joyful and energizing in each concert.
Over his career, Bruce has performed on legendary international stages as the Malate in Manila, the Klezmer Festival in Israel, Le Bilboquet in Paris, the WhitBread in London, the Coconut Grove in Miami, the Waldorf Astoria in New York and Grand Wailea in Maui.
In Minnesota, he has thrilled audiences at Orchestra Hall, Hopkins Center for the Arts, Dunsmore Room at Crooner's Supper Club, Dakota and St. Joan's Concert Series, to name a few.
Sample Chicago appearances and venues include DuSable Museum, Friday Night Jazz at the Quarry, Winter's Jazz Club and Jazz in July: A Benefit Concert for Unity on The North Shore.
Bruce Henry has also been a featured performer at the Chicago Jazz Festival, Twin Cities Jazz Festival, Hyde Park Jazz Festival, Freedom Jazz Festival, Jazz@StBarney's and the KBEM Winter Jazz Fest. (INSIGHT NEWS)