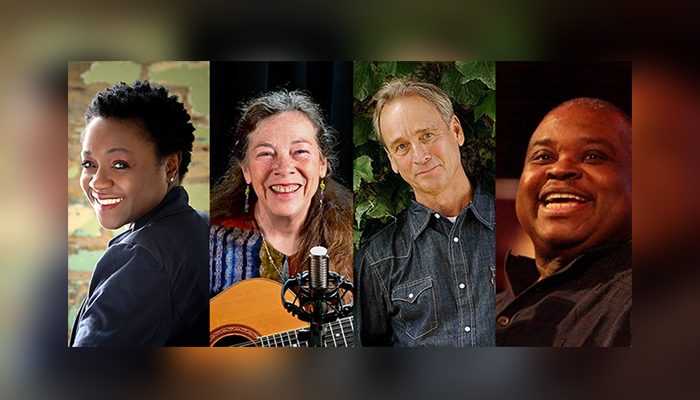 "American Roots Revue features what the singular, always-changing band lineup does best – capture first-rate artists teaming up to do each other's songs, plus great classic tunes from America's songbook." – Martin Keller, Twin Cities Author & Journalist
American Roots Revue returns to the Dakota for two shows Saturday, November 12th. This concert celebrates the release of Live at the Dakota, recorded at their sold-out performance in April and filmed by PBS.
The November show will feature new artistry by Robert Robinson ("Pavarotti of Gospel"), Claudia Schmidt ("Masterful Weaver of Story & Song"), Tonia Hughes ("Powerhouse of Soul"), and Larry Long ("American Troubadour").
The all-star band is led by Michael Bland (former Prince and Current Soul Asylum Drummer) and Billy Steele (Keyboardist for the Legendary Steele Family and Sounds of Blackness). The Roots band includes the virtuosity of Joe Savage on dobro and pedal steel, and first-time performances by Jeff Bailey (Bassist for Joey McIntyre, Andres Prado, Minnesota Orchestra), world percussionist Marc Anderson, and new sensation Geoff LeCrone on lead guitar.
Watch the April performance of American Roots Revue: Live at the Dakota streaming on PBS-TPT Stage.
Stage Link: https://www.tpt.org/stage/video/stage-american-roots-revue-8me6oj/
LEARN MORE: https://www.larrylong.org/