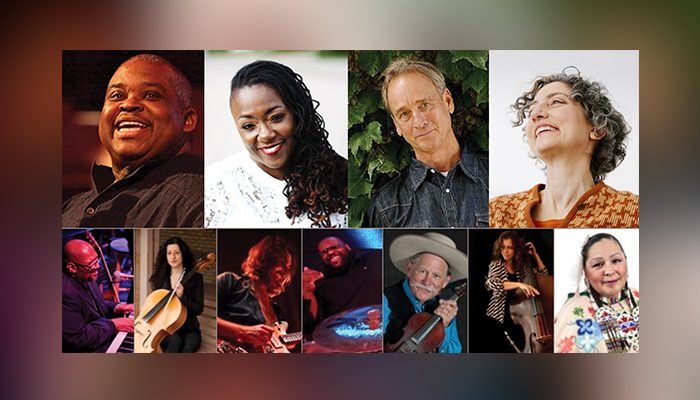 American Roots Revue is baaaaack! Indigenous song, Gospel, R&B, Blues, Folk, Rock and all stops in between and combined are on tap when the American Roots Revue takes the Dakota stage for two shows January 13, 2024, with its most robust – and rootsiest – lineup ever! The evening will swing from an Anishinaabe Ojibwe tribute for water to rhythm and blues, old-time fiddle tunes, soul, folk, and gospel and a handful of memorable Larry Long original tunes.
The Revue's stellar players slated for the band's return in the new year include gospel legend Robert Robinson, R&B, soul singer and actor Tonia Hughes Kendrick, American Troubadour Larry Long, singer-songwriter and film composer Barbara Cohen, vocalist & keyboardist Billy Steele, drummer Michael Bland with cellist Jacqueline Ultan, lead guitarist Jeremy Yivisaker, Fiddlin' Pete Watercott, bassist Liz Draper, and Anishinaabe Ojibwe singer Alana Dickenson-Gaabay Aniikwaad.
Band Led by former Prince and current Soul Asylum Drummer Michael Bland and Keyboardist Billy Steele from Sounds of Blackness
Produced by Larry Long
American Roots Revue is a revolving showcase of world-class musicians, playing a diverse musical repertoire, whohave toured throughout the Upper Mississippi River region for the past decade.
American Roots Revue's last performance at the Dakota in October 2022 was featured on the inaugural of STAGE –TPT-PBS:
https://www.tpt.org/stage/video/stage-american-roots-revue-8me6oj/.
That performance is also captured on American Roots Revue Live at the Dakota and is now available on all social media platforms, Spotify, Apple, etc., plus on CD. Available for purchase online through the Dakota: https://www.dakotacooks.com/shop/
Learn More: https://www.larrylong.org/