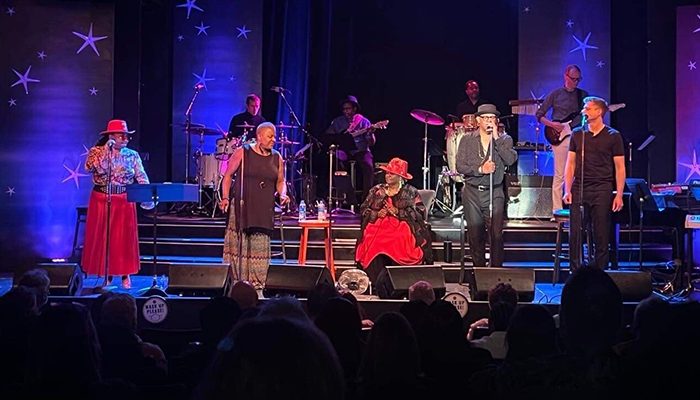 "Her voice is rich and funky… interjected with some jovial scatting." – Star Tribune
A fabulous one of a kind show from the heart of creator/ producer Gwen Matthews. It features the music of Aretha Franklin singing duets with world class, superstar male entertainers and hit song writers such as Stevie Wonder, Smokey Robinson, Rod Stewart, Elton John, John Legend, George Michael and more! Based on duets originally recorded and those from live concerts, all of which inspired the Queen of Soul. A beautiful night full of fun songs you are guaranteed to enjoy.
Gwen Matthews was named by Star Tribune music critic Jon Bream as one of 30 Essential Black Musicians who defined Minnesota's sound. From Stevie Wonder, Kenny Rogers, Earth Wind and Fire and others, Matthews has performed with the best. She has traveled internationally with The Denis Colin Trio, "Women Who Cook," and Rupert's Orchestra. In 2007 she was inducted into the Minnesota Rock and Country Hall of Fame with Passage; in 2009 for the Iowa Rock and Roll Hall Of Fame with Crow.
One of the most vibrant voices in the area, Kathleen Johnson's bands Best Kept Secret and Greats Gone 2 Soon have packed clubs throughout Minnesota. She has worked with Billy McLaughlin, Keri Noble, Lorie Line, Malina Moye, Alexander O'Neal, and Prince, among others.
Gevonee Ford has shared the stage with Natalie Cole, Michael McDonald, Tower of Power, The Temptations and others. He has performed throughout the Twin Cities as well as New York, California, the Caribbean Islands, and Hong Kong.
Shayde Stephens has sung in Minnesota's live music community for over 20 years. Shayde has done extensive commercial work, sung in the Greats Gone 2 Soon series led by Kirk & Kathleen Johnson, and Alexander O'Neal.
Brandon Hess has been performing since the age of 3. He has appeared with BKS Vine, Soul Tight Committee, and Said Method.
Tiawynee Purnell-Finger has performed with Josh Groban, Nikki Ross, Ginger Commodore, and James Grear. She is currently a member of William Duncan & The Crew and TCCGC.
William E Duncan (keyboards)
James Towns (bass guitar)
Deevo D (guitar)
José James (percussion/saxophone)
Brad Steine (drums)