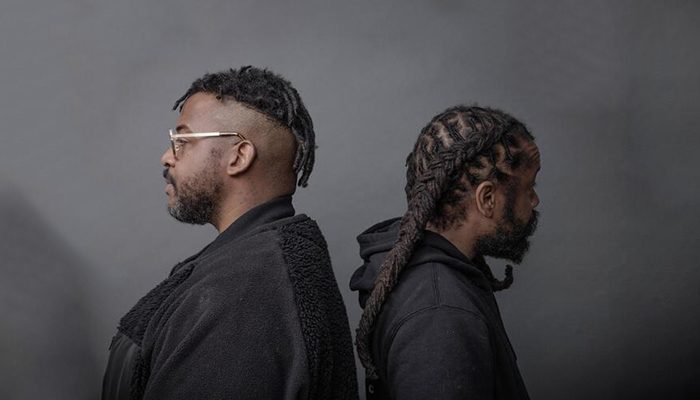 "Armand Hammer raps from another dimension, it's on us to catch up " – NPR
It is rare that two acclaimed solo artists, each just reaching their creative prime, come together to create something completely new. Nevertheless, two of NYC's most innovative MCs, billy woods and Elucid, have joined forces as Armand Hammer.
Both rappers have gained reputations as prolific solo artists. Elucid drew rave reviews for his commanding lyrical performance as one half of Cult Favorite, on the uber-underground, vinyl-only release For Madmen Only. billy woods is known for Dour Candy, a collaboration with producer Blockhead (Def Jux, Ninja Tune), garnering critical acclaim from all corners, including media outlets like the L.A. Times, Pitchfork, Vice, and The Needle Drop.
Although Elucid and woods appeared on each other's solo albums in 2013, the roots of their collaboration goes back several years. After they both appeared on the same compilation in 2011, woods sought Elucid out for a guest verse on his long-awaited solo History Will Absolve Me. "I was really impressed by Elucid's music but once we started working together I realized I was dealing with a rare talent," woods explains. "It's a real challenge not to be outshined on tracks with him, but that is something that I welcome as an artist. Steel sharpens steel."
Conceptually, Armand Hammer use their music as a jumping off point for engaging what Elucid calls "conflicts and interactions among Black people." Cerebral, gutter, intense–the end result is an uncompromising tour-de-force that sounds like nothing else in rap music today. Two of the most vital voices in the genre are taking rap into entirely new territory.
The Lioness is a native of North Minneapolis, Minnesota. Having started her hip-hop career 15 years ago, she has inevitably become one of the Twin Cities' premier homegrown artist. The conscious lyricist speaks to the souls of marginalized populations by addressing issues of racial inequalities and social justice, in efforts to encourage and empower youth, women, people of color, and Black communities across the country. 
The Lioness's projects include: The Most Anticipated (2011); Lost Tapes (2012); Queen (2013); Growing Pains (2016); Greater Vision (2018) and her latest,  gemINI (2021). 
Taking her passion and skills to a broader audience, The Lioness has completed six National tours and one European tour. With her rapidly growing fanbase and mission to encourage and inspire, it is only a matter of time before she becomes a global headliner.
LEARN MORE: https://backwoodzstudioz.com/pages/armand-hammer