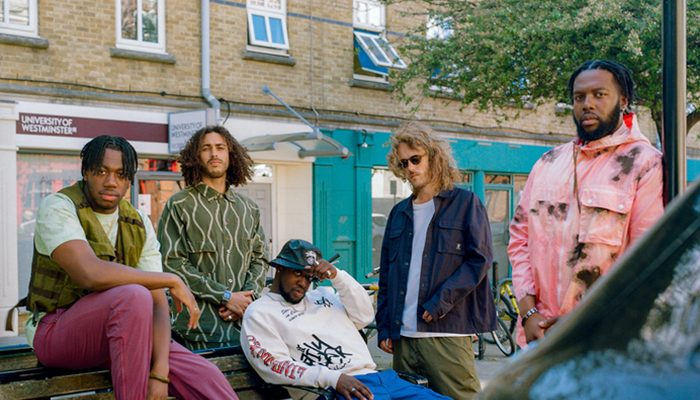 NEARLY SOLD OUT. Please contact the box office at 612-332-5299 for seating options.
"An urgent, free-wheeling bundle of fun" – NME
Before the pandemic struck, Ezra Collective were on fire. A world tour awaited them following years of hard graft, the critically acclaimed release of their 2019 debut album You Can't Steal My Joy, and an explosive Glastonbury performance that brought UK jazz to unseen heights.
Ezra Collective's new era, a venture in discovered maturity and raised stakes, will be defined by the anticipated second album. Where I'm Meant To Be is a thumping celebration of life, an affirming elevation in the Ezra Collective's winding hybrid sound and refined collective character. The songs marry cool confidence with bright energy. Full of call-and-response conversations between their ensemble parts, a natural product of years improvising together on-stage, the album will light up sweaty dance floors and soundtrack summer dinners in equal measure.
The group – consisting of Femi Koleoso (who also drums for Gorillaz) as drummer and bandleader, Joe Armon-Jones on keys, James Mollison on saxophone, Ife Ogunjobi on trumpet, and Femi's younger brother TJ on bass guitar – originally came together in 2012 as teenagers in London. They have since shot forward to become architects of a new phase in their city's musical journey, a hybrid time in which Black genres – jazz, grime, afrobeat and more – can dovetail and harmonize fluidly, at new, forever rising levels.
Fans of the band know what to expect: pulsing, addictive anthems that coexist in several genres at once. Femi describes the new album, "It's classic Ezra: an aggressive Afro-Cuban-salsa-jazz-afrobeat smash-up!" Traversing the steady bop of dub reggae, to the two-step of funky, to the rush of body-shifting samba – Ezra views their songs in their lived terms, as vehicles of healing, empathy and community. Ezra Collective is back, bigger and better and bolder than ever before.
LEARN MORE: https://ezracollective.com/