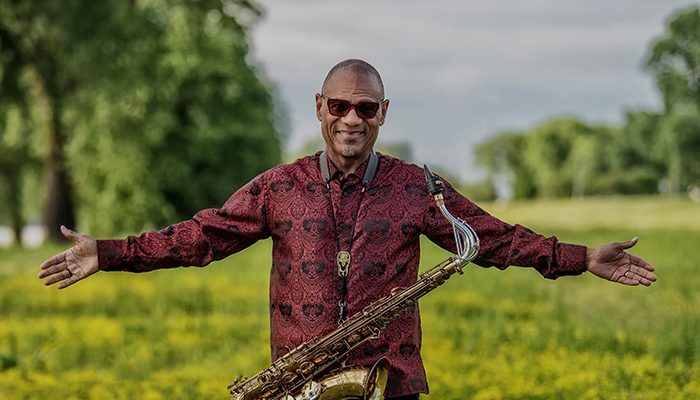 "soul-cleansing… focused and adventurous playing" – Jazz Times
Soulful, passionate, stirring… these are the words most often used to describe Kirk Whalum's music. Forged from his Memphis gospel roots and his 1980's initiation into the thriving Houston, TX nightclub scene, Kirk's big, rich tenor sound is unmistakably his. The '80s were highlighted by Kirk's stepping out of his blossoming sideman role and forming his own band. It was there that Kirk ultimately developed both his "voice" and songwriting in the crucible of the local club scene––especially at a rooftop club called Cody's. It was also in Houston where jazz pianist Bob James "discovered" him and brought him on tour.
After moving to Los Angeles, Kirk became an in-demand session player for top artists like Barbra Streisand, Al Jarreau, Luther Vandross, Larry Carlton, Quincy Jones, and most notably, Whitney Houston. It's his sax heard on the mega-hit, "I Will Always Love You." Kirk soon followed that career high point with his phenomenal hit album For You, perhaps the most successful of over 25 solo recordings to date; others include his eclectic, and much-lauded, Gospel According to Jazz (Chapters 1, 2, 3 and 4).
Kirk is the recipient of numerous awards and acknowledgments for his musical excellence including three Dove Award nominations, an NAACP Image Award nomination and has won two Stellar Awards-Gospel music's highest honor. A twelve-time Grammy nominee, Kirk won his first Grammy (2011) for Best Gospel Song ("It's What I Do"––featuring Lalah Hathaway) alongside lifelong friend and gifted songwriter, Jerry Peters. Kirk has also been honored with a Brass Note on the Memphis Walk of Fame and a star on the Nashville Walk of Fame.
​ In a career spanning decades, Kirk has a sound that is uniquely his; it is a sound that leaves an indelible imprint on the listener.
LEARN MORE: https://kirkwhalum.com/