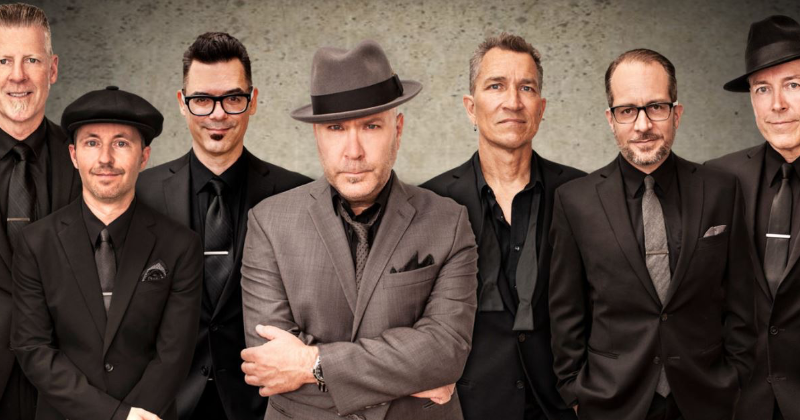 "A performance by BBVD should be considered an all-encompassing cultural experience, where pizzazz oozes out of the fedora hats, zoot suits, and black-and-white spectator shoes that together package the eight hep cats and their (mostly) original swing music."
– PopMatters
THIS SHOW IS SOLD OUT
April, 2019, marks the 26th anniversary of Big Bad Voodoo Daddy's remarkable arrival onto the music scene. Since its formation in the early nineties, the band has toured virtually nonstop, performing on average over 150 shows a year, and has produced a sizable catalog of recorded music, with sales of over 2 million albums to date. The band is a vibrant fusion of the classic American sounds of jazz, swing, and dixieland, with the energy and spirit of contemporary culture.
Members:
Scotty Morris (vocals, guitar)
Kurt Sodergren (drums)
Dirk Shumaker (vocals, double bass)
Andy Rowley (vocals, baritone saxophone)
Glen "The Kid" Marhevka (trumpet)
Karl Hunter (saxophone, clarinet)
Joshua Levy (piano, arranger)
The band's music has appeared in countless films and television shows, including Swingers, The Wild, Despicable Me, Phineas & Ferb, Friends, Third Rock From The Sun, Ally McBeal, and So You Think You Can Dance. They have appeared live on Dancing With The Stars, Late Night With Conan O'Brien, NBC's Christmas in Rockefeller Center, The Macy's Thanksgiving Day Parade, a remarkable seven appearances on The Tonight Show with Jay Leno, and the Super Bowl XXXIII Halftime Show.
Learn More: http://www.bbvd.com