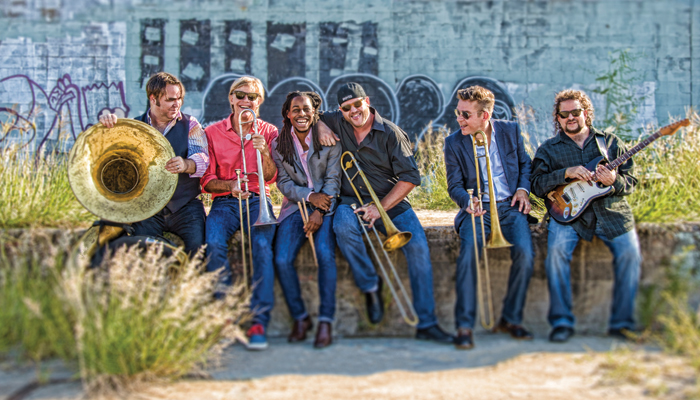 "A brass-band force of nature"
– NPR
Anybody who's been to a Bonerama live show is no stranger to the band laying down some funked-up, brassy renditions of classic rock songs. Fans of those moments are in for a treat, because the band is gifting the world an album of nothing but Led Zeppelin covers*.
Bonerama Plays Zeppelin is exactly what you think it is, a collection of your favorite songs from the greatest rock band of all time covered by the greatest trombone band of all time. If you have any doubt that a Trombone-centric band can really rock, pick a tune at random from this release, and be defied. Whether it be the lava-hot vocals on "Black Dog," the distorted wah-wah trombone replacing the traditional guitar on "In My Time of Dying," or even a surreal lightning-fast sousaphone solo on the funkified version of "Heartbreaker," Bonerama proves they can rock with the best of them.
Members:
Mark Mullins (trombone, lead vocals)
Craig Klein (trombone, lead vocals)
Greg Hicks (trombone, vocals)
Bert Cotton (guitar)
Matt Perrine (sousaphone, electric bass)
Walter Lundy (drums)
*Two full sets will be performed: first set will be original Bonerama material, and the second set will be music from the great Led Zeppelin.
Join us for dinner before or during the show. Explore our menu >>  Did you know that we offer a premium seating option for those who pre-order a $39 food/beverage voucher? Call 612-332-5299 to learn more and order.
Featured in Rolling Stone's "New Orleans Jazz Fest 2018: The 7 Best Things We Saw."
The band has performed and recorded with artists such as R.E.M., OKGo, Tom Morello, Wayne Kramer (MC5), Jill Sobule and many more, all while bringing their distinctive sounds from New Orleans to a national spotlight.
This 18-year-old touring band has appeared everywhere from Monterey Jazz Fest to HBO's Treme and The Late Show on CBS, exposing Bonerama to a wide range of unsuspecting new viewers.
Learn More: http://boneramabrass.com/