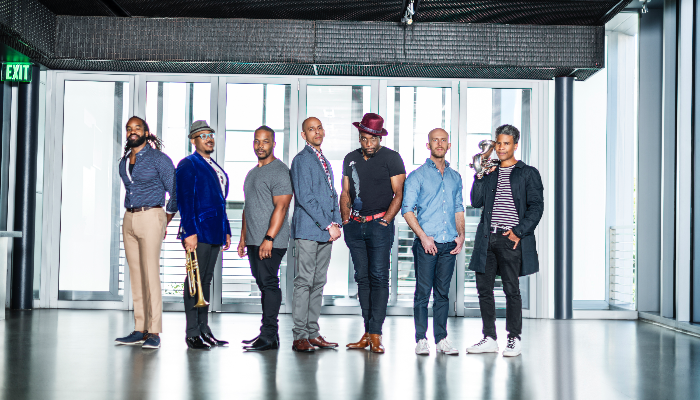 "a superbrain for what serious jazz sounds like now."
– The New York Times
Founded by SFJAZZ in 2004, the SFJAZZ Collective is a leaderless group and a democratic composer's workshop that represents what's happening now in jazz. SFJAZZ Collective's mission each year is to perform fresh arrangements of works by a modern master and newly commissioned pieces by each Collective member.
Members:
Obed Calvaire (drums)
Etienne Charles (trumpet)
Warren Wolf (drums)
Edward Simon (piano)
Martin Luther McCoy (vocals)
Matt Brewer (bass)
David Sánchez (tenor saxophone)
Adam Rogers (guitar)
The SFJAZZ Collective line up over the years has featured: Bobby Hutcherson, Joshua Redman, Miguel Zenón, Eric Harland, Mark Turner, Matt Penman, Avishai Cohen, Sean Jones, Andre Hayward, Stefon Harris, Dave Douglas, Nicholas Payton, Joe Lovano, Josh Roseman, Renee Rosnes, Jeff Ballard, Robert Hurst, Brian Blade, and others.
Learn More: http://www.sfjazz.org/sfjazzcollective