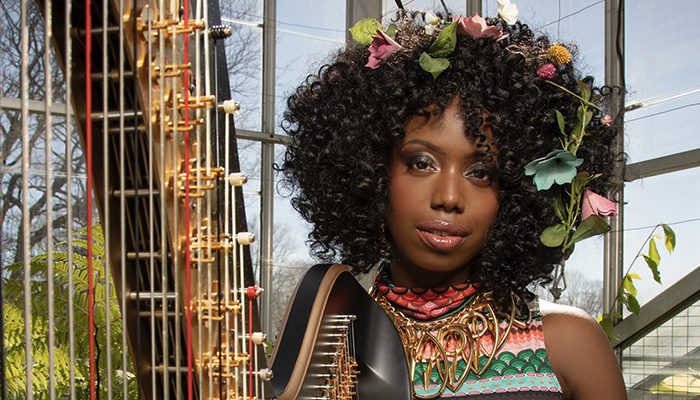 "Younger has… made a persuasive argument for the harp's role in contemporary jazz" – New York Times
A leading voice of the harp today, performer, composer and educator Brandee Younger defies genres and labels. Recently nominated for a 2022 Grammy for Best Instrumental Composition and NAACP Image Award for Outstanding Album, she has performed and recorded with artists including Pharoah Sanders, Ravi Coltrane, Jack DeJohnette, Charlie Haden, Common, John Legend, The Roots and Lauryn Hill.
Her original composition "Hortense" was featured in the Netflix concert documentary Beyoncé: Homecoming and in 2019, Ms. Younger was selected to perform her original music as a featured performer for Quincy Jones and Steve McQueens' "Soundtrack of America".
Ms. Younger's ability to seamlessly inject the harp into arrangements and venues where it has historically been overlooked is a testament to her deep love for and exemplary command of the instrument. In addition to performing, Ms. Younger is on the teaching artist faculty at New York University and The New School College of Performing Arts in New York City.
Ms. Younger earned her Bachelor of Music in Harp Performance and Music Business at the Hartt School of Music and her Master of Music and Performing Arts Professions at New York University. She holds leadership positions on the advisory board of New Music USA, through the Apollo (theater) Young Patrons Steering Committee and the American Harp Society, Inc. where she is Director at Large.
As a concert curator, Ms. Younger organized "Divine Ella," part of the Schomburg Center for Research in Black Culture's annual Women's Jazz Festival. She also served as curator of the 2016 Harp On Park concert series, "highlighting the diversity of the harp and the contemporary importance of an ancient instrument," and most recently coordinated "Her Song," featuring the works of women composers, both for Arts Brookfield.
Each year offers different opportunities for members of the Dakota Combo, an audition-based jazz combo, made up of the region's top high school jazz musicians. Musicians are offered scholarships for a year of serious extra-curricular jazz study and performance. Originally presented in partnership with the MacPhail Center for Music and Minnesota Jazz Education, it is now a program of MacPhail exclusively.
LEARN MORE: http://brandeeyounger.com/