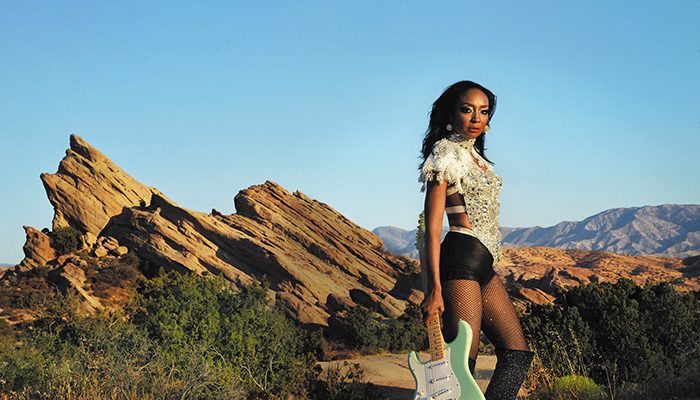 "über-talented, electric guitar powerhouse" – Parade
Flipping a Fender Stratocaster or a Gibson Flying V upside-down, acclaimed singer/songwriter/lefty guitarist Malina Moye fills a void in the entertainment industry. Lauded as a musical pioneer and one of the world's top guitarists by Guitar World Magazine, Moye has carved out her own lane in today's music scene as one of the few artists in history able to straddle both rock and soul genres and has become one of the world's premier guitarists of this generation. Her brand of music, fashion and philanthropy has made Malina one of the most visible artists in the world.
Moye encompasses a gumbo of funk, rock and soul. Moye's well-crafted songs display memorable melodies and astute songwriting. Parade Magazine states that "Moye has proven herself once again as an über-talented, electric guitar powerhouse", and MPR's The Current states that Malina is, "reinventing the Minneapolis sound."
Moye has "the talent, the look, the energy, the whole package," declares Huffington Post. Seventeen Magazine states, "On stage, Malina delivers an intoxicating fusion of funk, rock, and soul." Guitar World Magazine touts her music as, "insanely good" with "a seductive passion and feel that Malina brings in her guitar playing." The Examiner states, "Moye is one of ten national U.S. independent artists to see," and Billboard Magazine calls her collaboration with Bootsy Collins, "explosive."
In 2012, Malina was the first female guitarist to join the Experience Hendrix Tour and appeared in the documentary Stratmaster: The Greatest Guitar Story Ever Told. Abroad and stateside, Moye's Diamond & Guitars tour served her as an opening act with Robin Thicke and the legendary rock group Journey.
Moye's new album, Dirty, was released March 2023.
LEARN MORE: https://www.malinamoye.com/