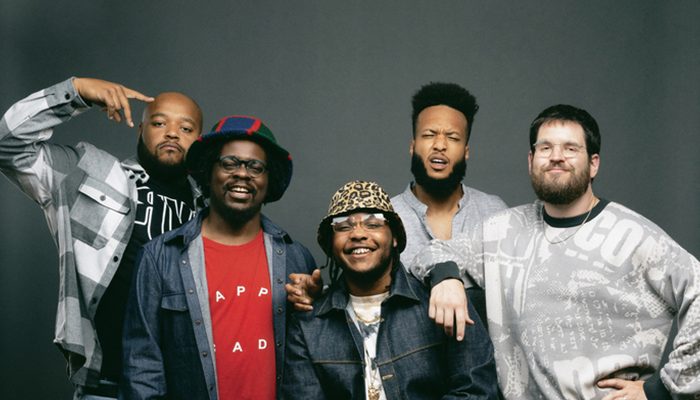 "blend of hip-hop and jazz… majestic and earthy" – Downbeat
Miles Davis once quipped, "I'll play it first and tell you what it is later." Butcher Brown has released forward-thinking and expansive hybrids of jazz and hip-hop since 2013. Today, they have an apt descriptor for their songs: solar music. Drawing inspiration from every sound under the sun, the Richmond, VA band adds elements of funk, soul, and rock to their foundational mix. The result is a Southern-leaning, sometimes psychedelic fusion that feels fresh yet familiar. Simultaneously working within and defying genre conventions, Butcher Brown is a jazz festival mainstay that could tour with Tyler, the Creator as easily as Khruangbin.
Every Butcher Brown album, show, and improvisational leap therein stems from the synergy, vision, and inexhaustible musical curiosity of him and his bandmates: producer/multi-instrumentalist DJ Harrison; bassist/composer Andrew Randazzo; trumpeter/saxophonist/MC Marcus "Tennishu" Tenney; and guitarist Morgan Burrs.
Butcher Brown deconstructs big band jazz and reshapes it in the band's eclectic image. With all due respect to Count Basie, the album sounds nothing like your grandparents' 45s. Randazzo adapted Tennishu's rap beats for Butcher Brown and 10 other Richmond musicians, turning them into bold and blaring suites for Tennishu to bless with his smooth baritone. Tennishu finds new pockets of rhyme between resonant brass, smacking percussion, warm guitar, funky bass, and more. Amidst party-starting originals, the ensemble delivers a reverent yet inventive Notorious B.I.G. cover, a brilliant blend of contemporary genre-smashing injected into the past.
Carrtoons has become one of the most sought-after producers through his eye-catching Instagram videos and the buzz of his latest album, Homegrown. His unique bass lines and fills have made him a favorite, leading to a recent appearance on NPR Tiny Desk (at home), and a commercial placement with Supreme + Nike. He has performed or recorded with Robert Glasper, Terrace Martin, George Clinton, Benny the Butcher, Mac Ayres, Kiefer and many more.
Recommended for Fans of Nate Smith, Robert Glasper, Nicholas Payton and Braxton Cook.