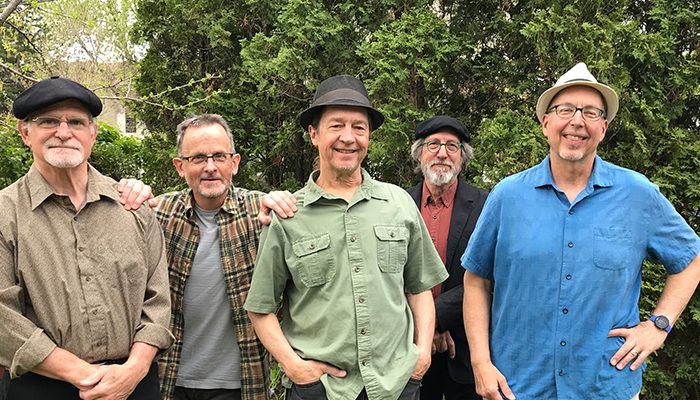 "a guaranteed good time… A local treasure" – MinnPost
Dan Newton's Café Accordion Orchestra (CAO) performs an eclectic mix full of French flare, Latin heat and Bohemian attitude. The heart of the CAO repertoire is the romantic, gypsy-influenced valse-musette. The group complements the musettes with swing, ballads, tangos, cha-chas, rumbas, and cumbias to create a wonderfully varied show. They inject their music with good humor and expressive abandon. Their high level of musicianship and passion for performance makes them an entertaining concert act as well as a great dance band.
CAO is led by Dan Newton on accordion and vocals, with Eric Mohring on mandolin, violin and vocals, Brian Barnes on guitar and vocals, Erik Lillestol on bass and vocals, and Joe Steinger on percussion. CAO has been delighting audiences and dancers alike since 1995. They have appeared in New York at the Lincoln Center's Midsummer Night Swing series, the International Akkordeon Festival in Vienna, Austria, the Minnesota State Fair, as well as festivals, theaters and dance halls across the United States.
One might wonder how a group of musicians in Minnesota end up forming a band that plays French musette, hot club swing, Tin Pan Alley, Latin music and cinematic themes. It's certainly been an interesting journey for CAO, a band whose repertoire cannot be described neatly with one word like "blues" or "swing". It all started with a tune composed in 1992 by Newton. Dan had been introduced to the Parisian sidewalk cafe accordion sound while teaching at a music camp in northern California in the 1980s. A friend commented that one of the tunes in particular sounded like "cafe accordion" music. That became the name of the tune and Dan's first solo album.
Recommended for Fans of Carré Bleu, Les Petits Parisiens, Daniel Janin and Trio Musette.
Learn More: http://www.cafeaccordion.com/