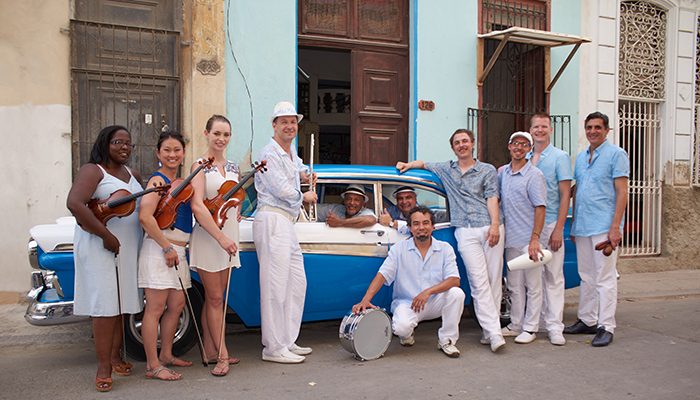 "a musical delight and a visual spectacle" – City Pages
---
Add Chef Remy's prix-fixe 3-course dinner for $45. Tax and gratuity are not included.
MENU
ceviche cubano
shrimp • snapper • avocado • mango •citrus • tortilla chips
ropa vieja
72-hour short rib • sweet plantains • rice • beans • sherry creole sauce
coconut flan
pineapple • rum raisin sauce
---
Founded in 2006, Charanga Tropical performs with instrumentation that dates back to the roots of Cuban music featuring a sizzling Latin rhythm section, three violins, vocalists, and flute. The music is rich in harmony and melody, fantastic for listening and superb for dancing.
In 2015 Charanga Tropical became the first and only North American group ever to perform at Havana's International Danzón Festival. Over eight hot summer days, the band played at elegant dance halls, grand theaters, rural fiestas, and on national Cuban radio.
Smooth strings, Caribbean beats, and a sound that inspires visions of Old Havana at sunset. This is Charanga Tropical.
Please read COVID Policy here >>
LEARN MORE: https://www.charangatropical.com/