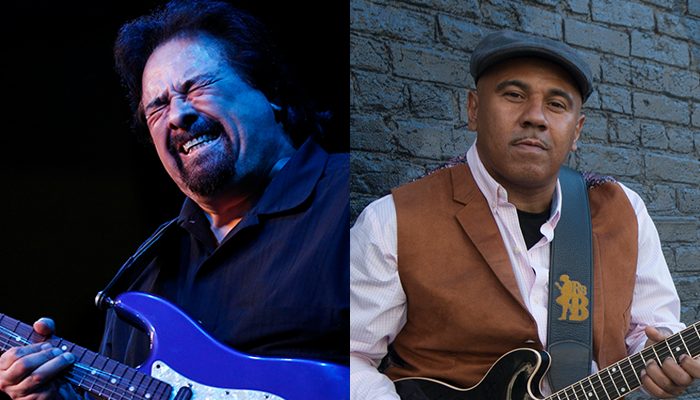 "Montoya sings and plays with passionate abandon." –The Boston Globe

"[Brooks is] ferocious and unrelenting"  –The Boston Globe

Between his white-hot guitar playing and his soulful, emotional vocals, Coco Montoya has talent to burn. In a career that spans almost four decades, he's gone from drumming for blues icon Albert Collins to holding the lead guitar spot in John Mayall's Bluesbreakers to leading his own band and touring worldwide. Montoya is revered for his ability to move from subtly melodic guitar playing to slash-and-burn pyrotechnics. Equally forceful are his deep, soul-baring vocals. Years of constant touring, playing unforgettable shows at clubs, concert halls and festivals, have earned him his position at the top of the contemporary blues world.
When Montoya launched his solo career in 1993, he already had an instantly recognizable burning-hot sound and style all his own. His debut album solidified his stature as the blues' newest rising star. Montoya has consistently delivered piping hot blues, rock and soul. Guitar Player says Montoya plays "stunning, powerhouse blues with a searing tone, emotional soloing, and energetic, unforced vocals."
LEARN MORE: https://www.cocomontoyaband.com/

Chicago bluesman Ronnie Baker Brooks has been climbing the blues world's ladder all his life. He started playing guitar around age six. At 19, he joined his father, blues legend Lonnie Brooks, who by then had influenced some of the most well-known bluesmen of our history: Jimmy Reed, the Fabulous Thunderbirds, Johnny Winter, and Junior Wells. For 12 years the two would tour together, putting Ronnie out front with Eric Clapton, B.B. King, Buddy Guy, and Koko Taylor. In 1998, when he was 32, his father told him to go solo.
An active recording artist, Brooks has worked with producers like Janet Jackson, Jellybean Johnson, and most recently, Steve Jordan. Blues journalist David Brais declared Brooks "blues royalty," stating that "his particular style of Chicago blues has been performed on stages around the world. It honors the true torch bearers of this unique sound which includes Willie Dixon, Buddy Guy, B.B. King, Luther Allison and his father."
LEARN MORE: https://ronniebakerbrooks.com/