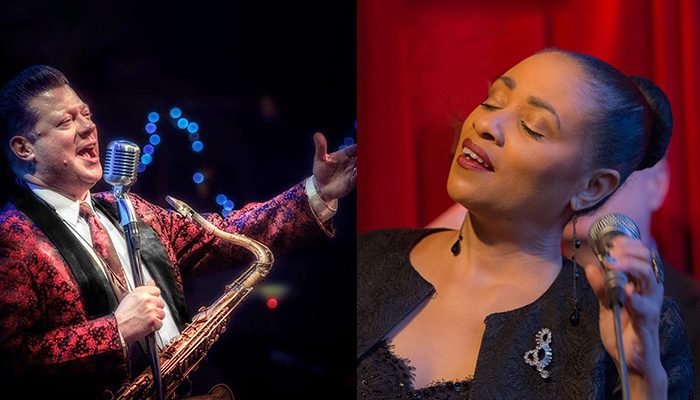 NEARLY SOLD OUT. Please contact the box office at 612-332-5299 for seating options.
"Vic Volare – Slick, suave, and swank, our famed lounge lizard might as well be the real thing." – Mpls. St. Paul Magazine
Vic Volare is the Twin Cities legendary crooner. His Rat Pack stylings have been thrilling crowds since 1996. With his band of merry men known as the fabulous Volare Lounge Orchestra, Vic has blazed a horn screamin' high kickin' trail of swing music and classic standards that keep 'em dancing all night long.
Charmin Michelle is a charismatic chanteuse whose conversational style recalls the late Billie Holiday and other legendary ladies of jazz. And, yet, her music is free of tiresome camp and easy nostalgia. She's a savvy songstress and, while putting her own imprint on a melody, is always respectful of those who first inhabited it.
"Bobby Darin, Dean Martin, Sammy Davis, Jr. and Louis Prima all live on in the hellzappopin' show of this Land O' Lakes lounge lizard. Vic Volare is Minnesota's cocktail pop king, bringing a big dose of the Vegas desert to the frozen tundra. A snappy dresser with a prize baritone and a Hollywood heartthrob's casual confidence, Volare makes every club set a Rat Pack-style party. His tongue's firmly in cheek, and his crowd's generally dressed to kill in a mixture of high fashion and thrift shop threads. Volare's backing Lounge Orchestra sounds especially good after a few dry martinis. " — Tom Surowicz, Minneapolis Star Tribune
LEARN MORE: http://vicvolare.reverbnation.com/
LEARN MORE: https://charmsongs.com