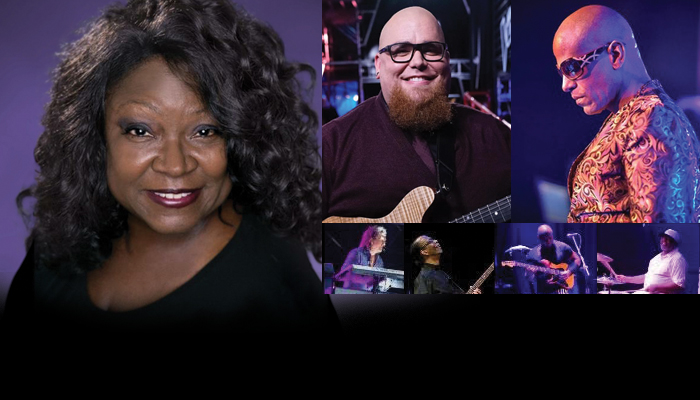 "Ginger possesses some of the sweetest and most clarion pipes in town."
– City Pages
Join Ginger & Friends as they perform songs honoring this legend of the modern American Civil Rights Movement.
A member of the Midwest music scene for many years, Ginger Commodore is a regular visitor to the Dakota stage. Classically trained, gospel-influenced, and jazz-inspired, Ginger's musical foundation is a true amalgam of musical styles presented with her own unique delivery.
Jesse Larson has shared the stage with many well-known acts like Next, Eric Roberson, Robert Robinson, Darnell Davis. Jesse most recently performed with Maroon 5 front man, Adam Levine when he competed in Season 12 of NBC hit television show The Voice where he won fourth place.
Julius Collins is a renowned singer in Minneapolis. Managed by Prince when he first moved to the city from Atlanta, his band Black Julius emerged on the scene with a blend of rock and funk. Next up was the formation of the phenomenal group, Greazy Meal. which was comprised of some of the best musicians in Minneapolis.
They will present music of truth and inspiration from the teachings and learnings of Dr. Martin Luther King, Jr. and the Civil Rights movement. Follow the music as it traveled from Memphis to Motown through songs like "A Change is Gonna Come," "People Get Ready," "Soul Serenade," "What's Going On?," "Higher Ground" and more.
Members:
Ginger Commodore (Moore By Four)
Julius Collins (Greasy Meal)
Jesse Larson (NBC's The Voice)
Special Guests:
Tommy Barbarella (Greasy Meal, New Power Generation)
Jay Young (Moore By Four)
Deevo Dee (BluPrint, Sounds of Blackness)
Bobby Commodore (Moore By Four, Sounds of Blackness)
Join us for dinner before or during the show. Explore our menu >>  Did you know that we offer a premium seating option for those who pre-order a $39 food/beverage voucher? Call 612-332-5299 to learn more and order.
Learn More: https://www.gingercommodore.com