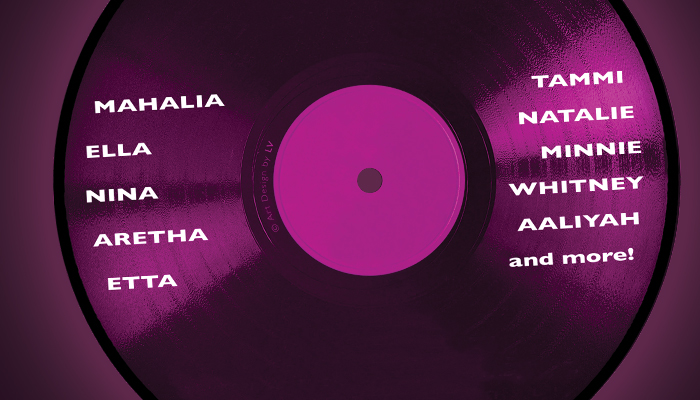 "Lady Greats" is a presentation of over 20 of the greatest female vocalist of all time including Mahalia Jackson, Ella Fitzgerald, Aretha Franklin, Etta James, Whitney Houston, Nina Simone, Aaliyah, Tammi Terrell, Minnie Riperton, Lisa "Left Eye" Lopez, and many more.
Featuring The "Ma Muz" Germain Brooks, Rhonda and Kathleen Johnson, Kiana Marie, and Michelle Carter. Special guest vocalist: Cornisha Garmon. Introducing International recording artist Yemi Kersten (from Nigeria).
"Greats Gone 2 Soon" is a prolific and dynamic musical series of tributes that pay homage to some of the most soul stirring musical greats of our time. These productions are evident of how truly driven and inspired KAJ Productions is; serving music on a gold platter to music lovers, great musical artists of today, and the everlasting, beloved and distinguished musical talents of yesteryear.
Join us for dinner before or during the show. Explore our menu >>  Did you know that we offer a premium seating option for those who pre-order a $39 food/beverage voucher? Call 612-332-5299 to learn more and order.
Kirk A. Johnson "KAJ", is drummer extraordinaire, producer, songwriter, founder of KAJ Productions, leader of "The KAJ Orchestra", MD of "UniverSoul", and former drummer and dancer of Prince and The New Power Generation and Paisley Park recording artist.
Kathleen A. Johnson is an A-list lead vocalist of The Original Best Kept Secret ("BKS"), vocalist, Songwriter, musical mentor, vocal director, founder of Musicians4Musicians, co-founder of "Raisingthebar, an Artist's Loft", former session recording artist Paisley Park Studios, and co-owner of Wholesoul A Lavender and Sage Eatery Food truck.
Learn More: https://www.greatsgone2soon.com