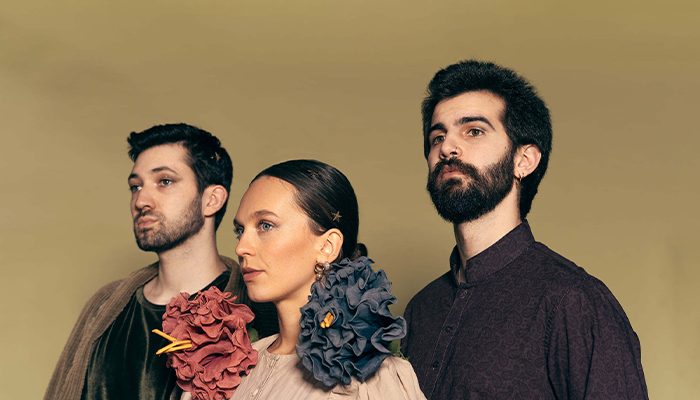 "deliciously infectious and feel-good set… fun" – Mpls St. Paul Magazine
"Minneapolis folk-jazz-bossa-nova-pop band who are ready to make you smile." – The Current
These three pieces of toast—Zak Khan on guitar/production, Clara Wicklund on vocals/bass, and Andreas Fenner on vocals/keys—are multigrain babes: Acoustically-rooted, leavened by jazz and baked to a perfect Honeybutter golden brown.
With the velvety romance of old cinema, they mix Brazilian guitar, honeyed vocals and homemade percussion to make music that's earth-bound and timeless. Their songs are dreamy and familiar: set in Minnesota's harsh landscape, where the trio's songwriting takes place, they're warmth and sugar on a cold winter day. Eat them for breakfast.
While the band's first live performance was in July 2021, its roots go back farther. Guitarist Zak Khan and bassist Clara Wicklund attended Gustavus Adolphus College in St. Peter, MN, but didn't really connect until both had moved to the Twin Cities. Clara brought longtime friend keyboardist Andreas Fenner, into the mix, and the core of the band was set.
Zak Khan: "What's been cool is that since we all listen to a lot of different music ourselves, there are areas of overlap where it's like, "Oh, this type of sound is something that we'll all like." And that's kind of been like the more jazz-centered sound with a little bit of not pop necessarily, but the more songwrite-y tinge to it. It's not straight-up jazz, it's just got the elements of that, and Brazilian, and folk music as well."
Andreas Fenner: "A lot of people bring up the word "cinematic" when they talk about our music. I think partly because we don't really shy away from big sounds. We like adding a trumpet, we like having strings on there."
Clara Wicklund: "I think that we've come into this place where we have a lot of acoustic guitars and more bossa style. And then we're such fans of old classic jazz stuff, too. It's a cool mixture."
LEARN MORE: https://www.honeybutterofficial.com/