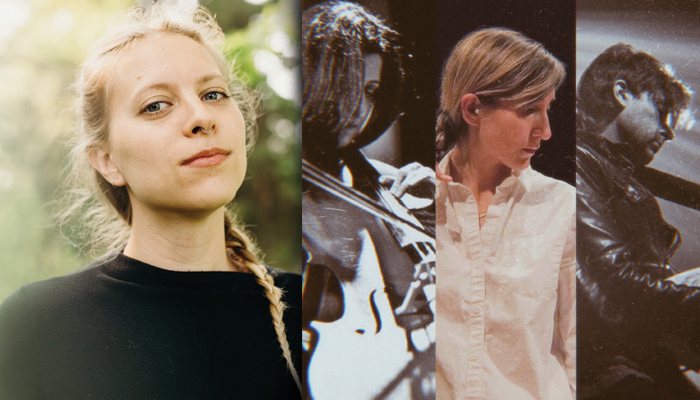 "[Humbird is] one of the Twin Cities' most promising new singer/songwriters."
– Star Tribune
Based in Minneapolis, Minnesota and inspired by the crystalline chill of the state's Northern winters, Siri Undlin (a.k.a. Humbird) creates experimental folk and environmental Americana tinged with the sophistication of classic orchestral compositions. Her voice, which contains the unwavering fortitude of hymnal melodies, reveals her traditional background. Paired with Undlin's knack for eccentric musical arrangements and unpredictable, fresh modes of storytelling, Pharmakon​ (08/20/2019) bounces between two worlds, never lingering in one for long. Returning from an extensive fall tour and before heading back to the studio, Humbird makes this a Dakota Debut.
_________________________________________________________________________________________________________
Aida Shahghasemi is a Minneapolis based vocalist and musician who immigrated from Iran in 2000. She has been a touring member of Iron and Wine and Marketa Irglova's band while also being a recording artist on two of Glen Hansard's albums. She is a recipient of the 2017 McKnight music fellowship.
Jacqueline Ultan is a creative cellist, composer and improvisor who's unique versatility is reflected in the diversity of her many artistic collaborations. Ultan has recorded and collaborated extensively with theater, pop, rock, and new music artists, including Kill The Vultures, Roma di Luna, The Jayhawks, Dan Wilson and Kevin Kling.
"Avant-garde cellist Jacqueline Ultan stretches her instrument in new directions…" – Minnpost
Jeremy Ylvisaker is a multi-instrumentalist, composer, improviser, producer, teacher who has worked with John Prine, Bon Iver, Bruce Hornsby, Jenny Lewis, Andrew Bird, Sandra Bernhard, Damo Suzuki (Can), Anais Mitchell, Brother Ali, Mouse on Mars, Swamp Dogg, Merce Cunningham dance company, and many others playing in venues such as the Sydney Opera House and Carnegie Hall. He scored the film Reframed: Forgotten Film Remembered (Walker permanent collection) and put out 2 solo records (Malibu Hymnal and Dimebag) as well several as a member of the group Alpha Consumer.
"If you're a Twin Cities music fan, chances are you've heard the guitar work of Jeremy Ylvisaker…whether he's been trying to or not, [he] has been impressing us all along." – City Pages
Learn More: http://www.humbirdmusic.com/