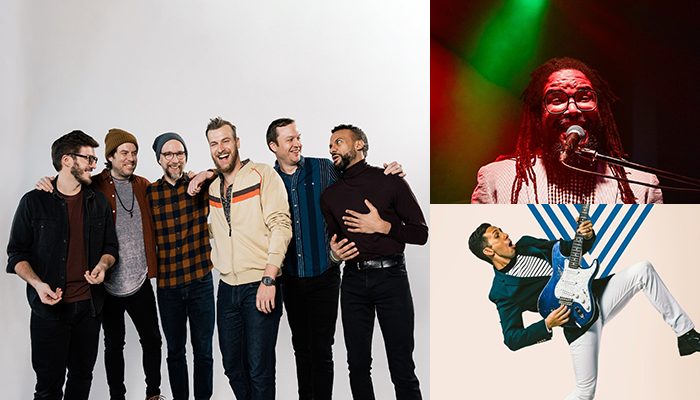 "Honest, genuine, skillfully executed music" – Jon Batiste
Huntertones brings people together around the globe with music that is fun, imaginative and fearless. The high-energy, Brooklyn-based instrumental band claims more authority than ever as they drive into their 10th year with a focus on collaboration. Huntertones have performed with Lake Street Dive, Snarky Puppy, Vulfpeck, Cory Wong, Louis Cato, Kurt Elling, Charlie Hunter, Allen Stone, Fred Wesley, and more.
Their latest release, Time To Play features the supreme vocal talents of Akie Bermiss who has become an increasingly prominent first-call musical presence in the Brooklyn music scene. Since 2017 Akie has toured heavily with the hugely popular band Lake Street Dive. He is well known for his uniquely raucous, guttural and soulful vocals, best described as a delectable fusion of Donny Hathaway and Tom Waits. When layered amongst the power of Huntertones horns & adventurous arrangements, it's a show that is a social experience and an epic musical joyride.
Straight out of Minneapolis, Cory Wong has positioned himself as music's answer to motivational speakers like Tony Robbins since emerging in 2011. Head-spinning rhythm guitar wizardry, technical ebullience, laugh-out-loud jokes, and radiance on stage establish him as both a sought-after collaborator and celebrated solo artist alike.
He lent his talents to television programs such as The Voice at the dawn of his career. After an impromptu meeting at the weekly jam hosted by Prince's rhythm section (where the Purple One often either performed or watched), he crossed paths with Vulfpeck who welcomed him as a frequent collaborator and member of the band. Solidifying a fruitful partnership, the group named their most popular instrumental track "Cory Wong," in tribute. Lighting up the stage in the band everywhere from Red Rocks Amphitheatre to Madison Square Garden, he remains a cornerstone of Vulfpeck's storied gigs.
LEARN MORE: www.Huntertones.com