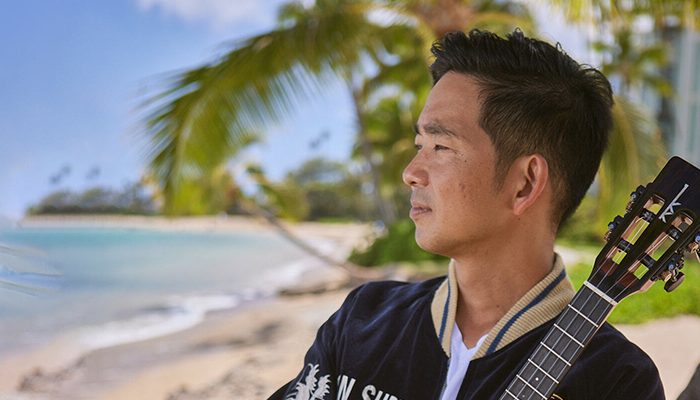 NEARLY SOLD OUT. Please contact the box office at 612-332-5299 for seating options.
"His ability to leap genres and play jazz, rock, blues, bluegrass, folk and classical is impressive." – Downbeat
By now, if you know the ukulele, you might know the name, of the innovator who is Jake Shimabukuro. He has captivated audiences around the world with his unique and dynamic style. With his mother as his first teacher of the instrument, Jake embraced a deep love and respect for the `ukulele and has explored new and unexpected ways to push the boundaries of what was possible on the humble four strings. Each album has showcased his mastery of the instrument and his ability to weave together diverse genres to create a cohesive and captivating musical experience. He is undoubtedly one of the most innovative and exciting musicians of his generation, changing the perception of the instrument itself and breaking barriers of what kind of music it is capable of.
Enter his newest, and most personal album yet. Grateful is a coming home for Jake. With a literal who's who of Hawai'i-based musicians, this collection of songs is performed live, in the studio with Jake's friends, contemporaries, mentors, and heroes – all kanikapila style in a return to his roots. Grateful is the follow-up to the critically acclaimed duets album with artists from Willie Nelson, Ziggy Marley and Bette Midler to Jimmy Buffett, Jack Johnson and Kenny Loggins. It was these collaborations that inspired him to go back to the beginning and play with the musicians who first inspired him as he was growing up in Hawai`i. Jake shares a connection with each and every artist on this album.
In addition to his impeccable musicianship, Jake is also a gifted storyteller, weaving together musical narratives that draw listeners in and leave them spellbound. He wanted to bring the power of each artist's stories to this album.
Born and raised in Hawai'i, Justin Kawika Young first found success in his island home. He accumulated eleven number-one hits on Hawai'i radio and four Hawaiian Music Awards before relocating to Los Angeles. He quickly established a following in the local music scene there and connected with other singer/songwriters including Colbie Caillat, eventually joining her band. In 2019 Justin and Caillat formed a band in Nashville with two friends called Gone West, earning a Grand Ole Opry debut and cracking the top 25 on country radio.
Recommended for Fans of Jimmy Buffett, Jack Johnson, Colbie Caillat and Hapa.
LEARN MORE: https://jakeshimabukuro.com/
LEARN MORE: https://www.justinkawikayoung.com/