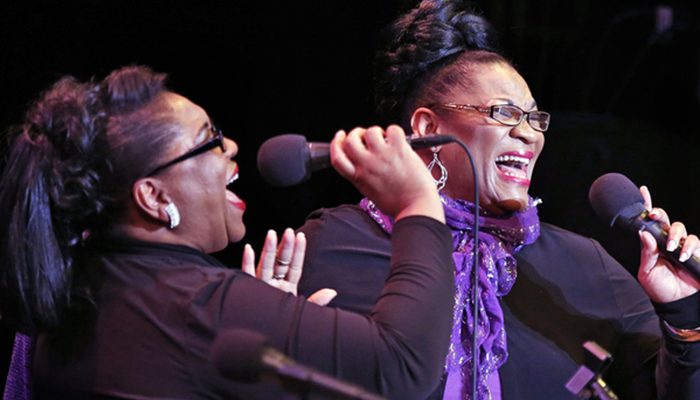 "Steeles steal the show." – KSTP TV
Hailing from Indiana, Jearlyn and Jevetta Steele grew up singing with their siblings Billy, JD and Fred in The Steele Children. Over time, the family moved to Minnesota, and these sisters sing together once again.
Charismatic, smart, funny and heartfelt are just a few adjectives used to describe Jearlyn Steele. Whether she is singing, speaking or emceeing, she leaves an audience wanting more. As a member of the internationally acclaimed family, The Steeles, Jearlyn has performed from South America to Europe.
For over a decade she has been an Entertainment Reporter for Twin Cities Public Television's award-winning political show "Almanac" interviewing local, national and international acts. Her CBS Sunday night radio show—Steele Talkin' on WCCO Radio 830AM is heard in thirty states and most of Canada, and has been a joy for more than two decades.
Jevetta Steele has enjoyed performing on many stages from London to Brazil, Carnegie Hall to the Apollo Theater, performing jazz, Gospel, R&B, the classics, and opera. She has a number of acclaimed opera and jazz recordings to her credit and is a force in the national theater world.
Jevetta has enjoyed recording and touring with legends; Prince, Mavis Staples, George Clinton, Natalie Merchant, Kirk Whalum, The Sounds Of Blackness, and many others. She was nominated for an Academy Award for her performance of "Calling You" in the musical Baghdad Café.
LEARN MORE: http://www.thesteelesmusic.com