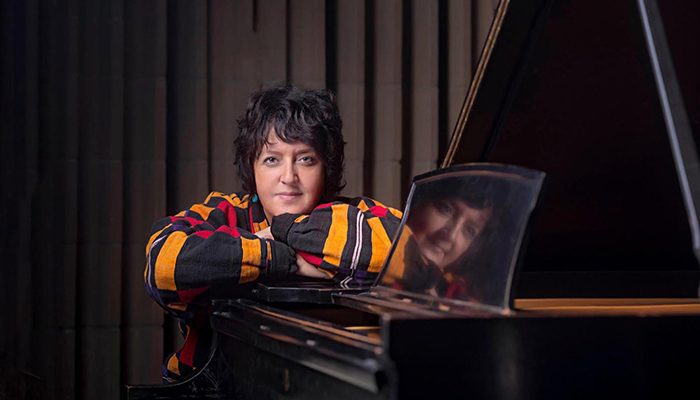 "a full-blown phenomenon: powerhouse singer, hardboogieing pianist, polished songwriter…" – Star Tribune
Roots R&B/Americana singer/songwriter/piano player/guitarist Kelley Hunt has always been a challenge to the music industry's penchant for easy artist definitions. She is a woman who muscled her way onto the scene on her own terms, with an identity steeped in blues/roots/gospel traditions and refreshing originality. She makes music with righteous roots intact that also crosses boundaries, has an open-minded, exploratory attitude and takes on social and political issues. It's all delivered with a commanding, passionate stage presence and superior vocal, keyboard and songwriting skills. For first-time listeners it can be a lot to unpack, requiring an extensive sample of her music to get the full picture.
Born in Kansas City, Hunt's love for her craft was ignited listening to early blues, R&B, roots rock, jazz and Gospel influences: artists like Ruth Brown, Mahalia Jackson, Billie Holiday, Ann Peebles, Ray Charles, Dinah Washington, Aretha Franklin, Charles Brown, Wanda Jackson. Also key were the New Orleans/St. Louis/KC piano traditions of Professor Longhair, Toots Washington, Johnnie Johnson, Jay McShann and Mary Lou Williams, among others. Before that came the sound of her mother singing jazz and blues – her first musical memories – and the influence of her New Orleans Gospel singer grandmother.
Kelley Hunt is celebrating the release of Winter Soulstice, her first holiday record. Hunt's unique, soulful arrangements of holiday standards she grew up singing, plus three original songs on themes of peace and unity, set this album apart from the usual holiday fare.
Hunt imprints each song with sounds and traits that are hers alone, and that separate the album from other, typical paint-by-number holiday albums. In her hands, Winter Soulstice transcends the typical holiday model and asserts itself as a spiritually uplifting album for all seasons.
LEARN MORE: https://kelleyhunt.com/