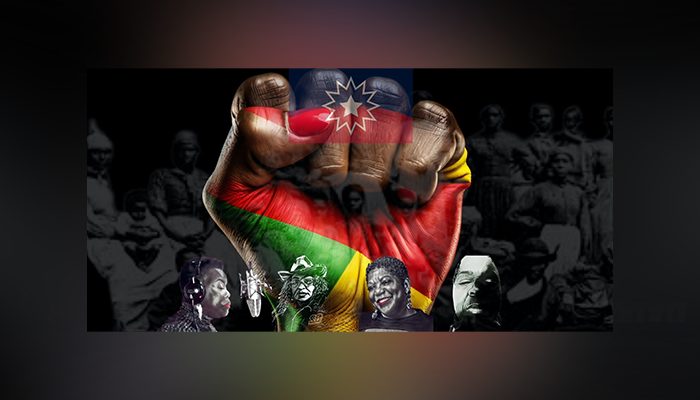 "an unbelievable night of iconic songs" – Explore MN
Kathleen Johnson of "Musicians4Musicians" presents…
A Juneteenth Celebration of "Sangaz that Sang"
This live music production features the music of Aretha Franklin, Etta James, Anita Baker, Whitney Houston, Chaka Khan, Natalie Cole, Gladys Knight, Teena Marie, and Sade!

This evening of old-school R&B flavor will put you and your family in the mood to celebrate and get in the spirit of African American Music History Month and Juneteenth celebrations. The top hits of these great Sangaz will be presented. We will move and groove in and out of these soul, R&B, and blues hits to bring back old memories and create new ones.
Featuring:
One of the most vibrant voices in the area, Kathleen Johnson's bands Best Kept Secret and Greats Gone 2 Soon have packed clubs throughout Minnesota. She has worked with Billy McLaughlin, Keri Noble, Lorie Line, Malina Moye, Alexander O'Neal, and Prince, among others.
Tia Purnel has appeared with Aretha and her Men, The Crew with William Duncan and been a featured vocalist with Ginger Commodore.
Rhonda Johnson has performed with BKS, Tha Ma Muz, The Spirit of Whitney, and High and Mighty.
Lamont Keten has appeared with Mfellaz', Greats Gone 2 Soon, The Soul Tight Committee, and has been a "Mid America talent" featured vocalist.
Yemi Love has appeared with Lady Greats, The Mystery of Etta James, and others.