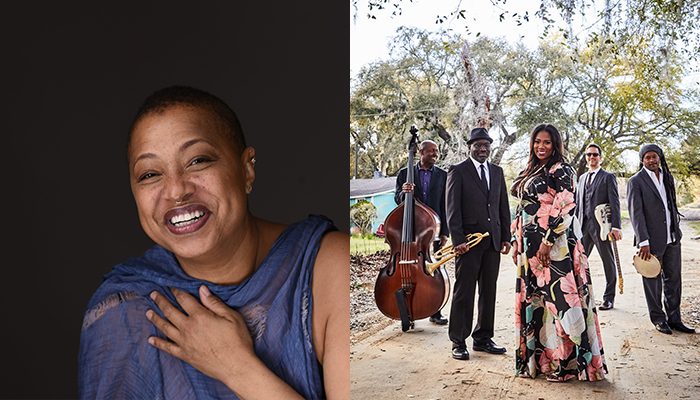 "lively, soulful honey to the ears" – NPR
Ranky Tanky (a Gullah phrase for "get funky") are five lifelong friends from Charleston, South Carolina who have established themselves as passionate global ambassadors for their local culture and community, helping to faithfully preserve the traditions originated by African Americans in the coastal South during slavery that is kept alive through the present day. The band has been featured on NPR's Fresh Air, The Today Show, PBS Newshour and The Late Show with Stephen Colbert. Ranky Tanky was honored to be featured artists in President Biden's inauguration event, We The People. They were the subjects of a 10-page profile in Oxford American's South Carolina Music Issue and were named 2020 Artist of The Year by the Charleston City Paper.
Winners of a Grammy in 2023 for Best Regional Roots Music Album, Ranky Tanky combines songs carried down through generations in the Sea Islands of the Southeastern United States with the band's own original compositions in the Gullah tradition.
After four decades of featured background singing with icons like Luther Vandross, The Rolling Stones, Chaka Khan, Tina Turner, and Nine Inch Nails, Ms. Lisa Fischer set out to take center stage with her own humble, heartfelt song. The 2013 Best Documentary Oscar-winning film Twenty Feet from Stardom altered the course of Lisa's musical journey, telling her story, with clips of her legendary duets with Sting or with Mick Jagger on "Gimme Shelter", left audiences eager to see and hear more, so Lisa took the chance to set out on her own reinventing classic songs with her co-conspirators JC Maillard and Grand Baton. Their organic fusion of Caribbean psychedelic soul and jazzy progressive rock ignites Lisa's flexibility and freedom of expression, awakening her lifelong desire to make music that heals but still rocks the house.
LEARN MORE: https://www.rankytanky.com/
LEARN MORE: https://lisafischermusic.com/