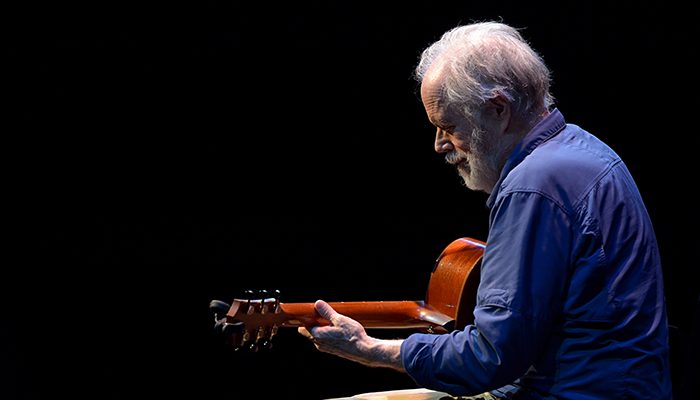 "wild, highly technical blend of bluegrass, folk, and jazz and classical" – Rolling Stone
This concert takes place at the Guthrie Theater: Wurtele Thrust Stage. To purchase tickets, click the "Buy Tickets" button above, buy tickets in person at the Guthrie, or call the Guthrie Box Office at 612-377-2224.
After recording more than 40 albums over four decades, prolific guitarist Leo Kottke boasts an impressive body of work and an unrivaled fingerpicking style that has won him two Grammy nominations and widespread acclaim. Drawing inspiration from folk, blues and jazz, he plays his signature 6-string and 12-string guitars with effortless aptitude, a big heart and an even bigger grin.
Kottke was born in Athens, Georgia, but left town after a year and a half. Raised in 12 different states, he absorbed a variety of musical influences as a child, flirting with both violin and trombone, before abandoning Stravinsky for the guitar at age 11.
After adding a love for the country-blues of Mississippi John Hurt to the music of John Philip Sousa and Preston Epps, Kottke joined the Navy underage, to be underwater, and eventually lost some hearing shooting at lightbulbs in the Atlantic while serving on the USS Halfbeak, a diesel submarine.
Discharged in 1964, he settled in the Twin Cities area and became a fixture at Minneapolis' Scholar Coffeehouse, which had been home to Bob Dylan and John Koerner. He issued his 1968 recording debut LP Twelve String Blues, recorded on a Viking quarter-inch tape recorder, for the Scholar's tiny Oblivion label.
After sending tapes to guitarist John Fahey, Kottke briefly signed to Fahey's Takoma label before jumping to Capitol. Kottke's 1971 major-label debut Mudlark positioned him somewhat uneasily in the singer/songwriter vein, despite his own wishes to remain an instrumental performer. Kottke flourished during his tenure on Capitol, as records like 1972's Greenhouse and 1973's live My Feet Are Smiling and Ice Water found him branching out with guest musicians and honing his guitar technique.
Kottke has been awarded two Grammy nominations; a Doctorate in Music Performance by the Peck School of Music at the U of Wisconsin, Milwaukee; and a Certificate of Significant Achievement in Not Playing the Trombone from the U of Texas at Brownsville with Texas Southmost College.
Tim Sparks has been redefining the acoustic guitar repertoire since he won the National Fingerpicking Championship in 1993 with a ground-breaking arrangement of Tchaikovsky's Nutcracker Suite. Equally at home with country, blues, jazz or World music, Sparks's extraordinary ability has earned him an international reputation as one of the most innovative guitarists working today.
Gary Raynor has been a first-call bassist in the Twin Cities for over 4 decades. After touring with Sammy Davis, Jr., he was the first bassist for the famed Rupert's Jazz Orchestra. He also worked regularly with Debbie Duncan, Rio Nido, and many others. From 2000 through September 2014, Gary was the bassist for the Guy's All-Star Shoe Band on "A Prairie Home Companion."
Billy Barber is a keyboardist and composer. He is most noted for the theme song for All My Children as well as keyboardist for the jazz group Flim & the BB's (w/ Jimmy Johnson, Bill Berg, and Dick Oatts). His song "Little Things" has been covered by The Oak Ridge Boys along with "Love is Worth the Pain" which was covered by Ray Charles. He has composed music for children's videos, and numerous television and radio series including American Chronicles, Face the Nation and The Splendid Table.
LEARN MORE: https://www.leokottke.com/