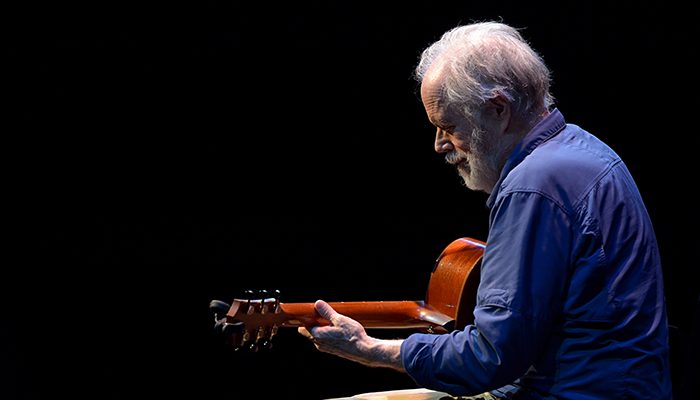 "wild, highly technical blend of bluegrass, folk, and jazz and classical" – Rolling Stone
After recording more than 40 albums over four decades, prolific guitarist Leo Kottke boasts an impressive body of work and an unrivaled fingerpicking style that has won him two Grammy nominations and widespread acclaim. Drawing inspiration from folk, blues and jazz, he plays his signature 6-string and 12-string guitars with effortless aptitude, a big heart and an even bigger grin.
Kottke was born in Athens, Georgia, but left town after a year and a half. Raised in 12 different states, he absorbed a variety of musical influences as a child, flirting with both violin and trombone, before abandoning Stravinsky for the guitar at age 11.
After adding a love for the country blues of Mississippi John Hurt to the music of John Philip Sousa and Preston Epps, Kottke joined the Navy underage, to be underwater, and eventually lost some hearing shooting at lightbulbs in the Atlantic while serving on the USS Halfbeak, a diesel submarine.
Discharged in 1964, he settled in the Twin Cities area and became a fixture at Minneapolis' Scholar Coffeehouse, which had been home to Bob Dylan and John Koerner. He issued his 1968 recording debut LP Twelve String Blues, recorded on a Viking quarter-inch tape recorder, for the Scholar's tiny Oblivion label.
After sending tapes to guitarist John Fahey, Kottke briefly signed to Fahey's Takoma label before jumping to Capitol. Kottke's 1971 major-label debut Mudlark positioned him somewhat uneasily in the singer/songwriter vein, despite his own wishes to remain an instrumental performer. Kottke flourished during his tenure on Capitol, as records like 1972's Greenhouse and 1973's live My Feet Are Smiling and Ice Water found him branching out with guest musicians and honing his guitar technique.
Kottke has been awarded two Grammy nominations; a Doctorate in Music Performance by the Peck School of Music at the U of Wisconsin, Milwaukee; and a Certificate of Significant Achievement in Not Playing the Trombone from the U of Texas at Brownsville with Texas Southmost College.
Known for his stunningly soulful baritone voice and his uncanny ability to work every nuance of language, John Gorka captures a wide array of topics and experiences and weaves them into memorable melodies. With 14 critically acclaimed albums and countless national and international tours, he has collaborated with the likes of Nanci Griffith, Mary Chapin Carpenter, Ani DiFranco, Lucy Kaplansky, Patty Larkin and many more. The Boston Globe extols, "Gorka is widely heralded for the sophisticated intelligence and provocative originality of his songs."
Recommended for Fans of John Fahey, Mike Gordon, Michael Hedges and Peter Lang.
LEARN MORE: https://www.leokottke.com/