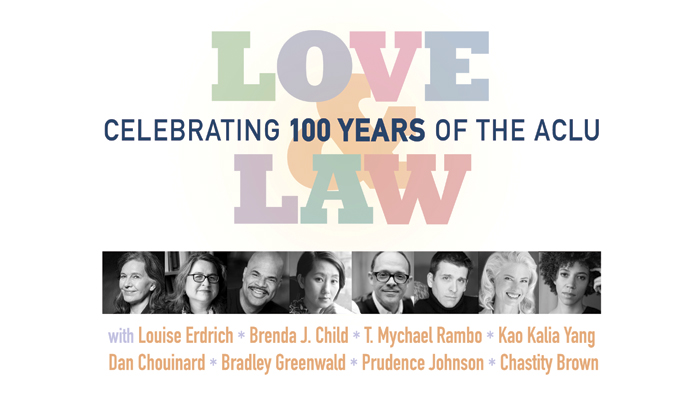 The premier defender of our Constitutional rights and freedoms, the American Civil Liberties Union, turns 100 and the Dakota teams up with Birchbark Books and ACLU of MN to celebrate.
Each guest will receive a copy of the new book Fight of the Century, edited by Michael Chabon and Ayelet Waldman and featuring essays about landmark ACLU cases by a stunning list of American authors including Marlon James, Ann Patchett, Salman Rushdie, Lauren Groff, Viet Thanh Nguyen, George Saunders and Minnesota's own Louise Erdrich and Brenda J Child.
Performers & readers include Louise Erdrich, T. Mychael Rambo, Dan Chouinard, Kao Kalia Yang, Brenda Child, Bradley Greenwald, Prudence Johnson, and Chastity Brown.
Join us for dinner before or during the show. Explore our menu >>  Did you know that we offer a premium seating option for those who pre-order a $39 food/beverage voucher? Call 612-332-5299 to learn more and order.