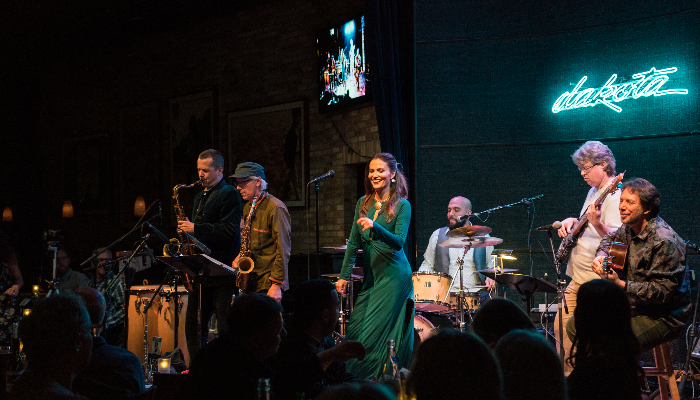 _____________________________________
THIS SHOW HAS BEEN POSTPONED
Information regarding a rescheduled date will be announced as soon as possible. Tickets purchased for the originally scheduled performance will remain valid for the new date, you will receive an email with the new date once it has been rescheduled.
______________________________________
"Ticket to Brasil" is a Twin Cities-based Bossa Nova, Afro-Brazilian Samba and Latin Jazz Fusion project created around a collective love for the celebration of rhythm and for the spirit of experimentation, founded by guitarist Pavel Jany.
Members:
Natania Kamin (vocals)
Pavel Jany (guitars)
John Croarkin (sax, flute, harmonica)
Steven Hobert (keyboards, piano)
Dan Weston (bass)
Josue Alfaro (drums, percussion, vocal)
Cesar Moran (percussion)
Join us for dinner before or during the show. Explore our menu >>  Did you know that we offer a premium seating option for those who pre-order a $39 food/beverage voucher? Call 612-332-5299 to learn more and order.
The group has released four albums, has performed at a number of national and international jazz events (The Winnipeg Jazz Festival, Twin Cities Jazz Festival, Ordway World Stage Festival, Grand Marais Jazz Festival, Sioux Falls Jazz Festival, and many more), and has opened for such renowned artists as Karrin Allyson, Brazilian singer Cibelle, and Trio Brasileiro.
Learn More: https://pjanymusic.com/Ticket-To-Brasil/ticket-to-brasil.html