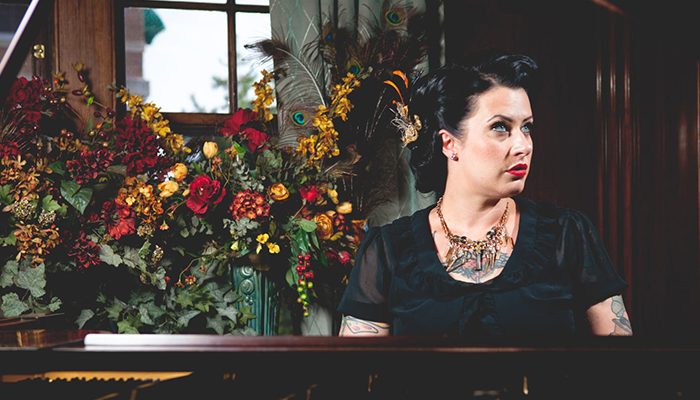 Please contact the box office at 612-332-5299 for possible seating options.
"She purrs and growls, whispers and wails. Sweet and seductive one moment, she's in your face the next, and then she makes you laugh. Her voice is a complex, expressive, flexible instrument made of sugar and grit."
– MinnPost
5-course Dinner* Show includes tax + gratuity
Davina and The Vagabonds offer "a modern take on old-time blues and jazz" (PennLive). They've created a stir on the national music scene with their high-energy live shows, level A musicianship, sharp-dressed professionalism, and Davina's commanding stage presence. With influences ranging from Fats Domino and the Preservation Hall Jazz Band to Aretha Franklin and Tom Waits, the band is converting audiences one show at a time.
10:30PM Live Stream of the Cocktail Show – $20


OMNI MENU
Rare Tuna pink peppercorn, pistachio
Dungeness Crab caviar, grapefruit, popcorn
Agnolotti heritage pork belly, sprouts, lemon
Halibut mushrooms, truffle, beurre
Wagyu potato, bordelaise, pomegranate
Chocolate burnt blood orange
Petits Fours
Champage Pate-a-Fruits
VEGETARIAN MENU
Sweet Potato Flan citrus, beet
Farfalle cashew pesto, grapefruit
Smoked Tofu mushroom, truffle, kombu
Artichoke Barigoule pomegranate, winter squash
Chocolate burnt blood orange
COVID-19 Policy
Effective immediately, all performances at the Dakota will require either proof of a full course of COVID-19 vaccination or proof of a negative COVID-19 test taken in the prior 72 hours. Patrons must have a completed COVID-19 vaccination card or a photo of their card, with their final dose at least fourteen days prior to the event, or a negative COVID-19 test result from 72 hours or less prior to the event. Thank you for helping to keep everyone safe. More COVID Policy details here >>
Learn More: http://davinaandthevagabonds.com/