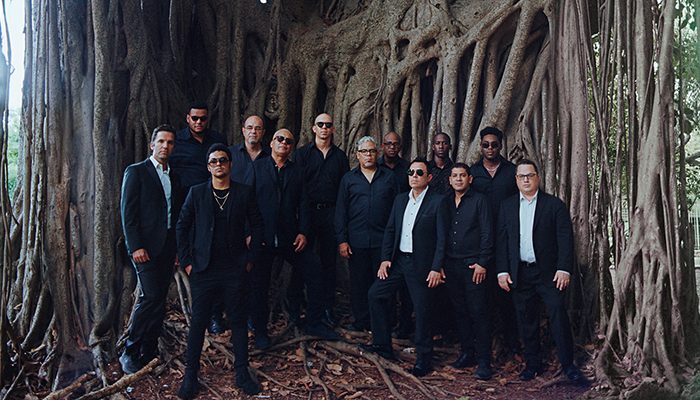 "vivid music that draws on a brassy combination of mambo, jazz, and folkloric traditions." – Chicago Reader
 When Orquesta Akokán burst onto the global music scene a mere three years ago, their no-holds-barred 21st-century take on the venerable Cuban mambo lit up stages around the world with a fierce and unremitting joy. Singer José "Pepito" Gómez, multi-instrumentalist Jacob Plasse, and arranger Michael Eckroth joined forces with a carefully curated selection of Havana's most extraordinary musicians as Orquesta Akokán, polishing Cuban mambo's golden sound to a luminous, contemporary sheen.
Their 2018 debut recording on Daptone Records, followed by relentless touring, garnered nominations for a Grammy, Billboard Latin Music Award, Telemundo Latin American Music Award, and critical acclaim from press and media around the globe. With new album 16 Rayos, the band continues to explore, develop and expand the island's rich rhythmic palette and repertoire – pushing the conventions of what is considered "mambo" – and drawing deeply from folkloric and religious traditions seldom heard in popular music.
COVID-19 Policy
Effective immediately, all performances at the Dakota will require either proof of a full course of COVID-19 vaccination or proof of a negative COVID-19 test taken in the prior 72 hours. Patrons must have a completed COVID-19 vaccination card or a photo of their card, with their final dose at least fourteen days prior to the event, or a negative COVID-19 test result from 72 hours or less prior to the event. Thank you for helping to keep everyone safe. More COVID Policy details here >>
Learn More: https://www.orquestaakokan.com/