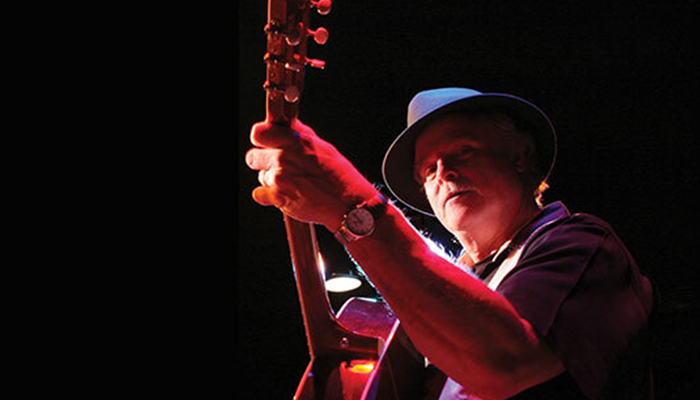 "one of the greatest fingerpickers in the world." – Chet Atkins
From swing to jazz to bottleneck blues to folk, Grammy-winning acoustic guitarist Pat Donohue plays it all with a flourish of artistry and melodic inspiration. Chet Atkins called Pat one of the greatest finger pickers in the world today; Leo Kottke called his playing "haunting."
Pat is certainly one of the most listened to finger pickers in the world. As the guitarist for the Guys All-Star Shoe Band of Minnesota Public Radio's A Prairie Home Companion, Pat got to show off his savvy licks and distinctive original songs to millions of listeners each week.
His decade-long association with Garrison Keillor's popular program led to some unusual gigs: There was the after-show club date in Berlin, when Wynton Marsalis showed up to sit in with Pat and the Prairie Home band. Or playing music on camera for the Prairie Home Companion movie with director Robert Altman and stars Meryl Streep, Lily Tomlin, Kevin Kline, John C. Reilly, Woody Harrelson and Tommy Lee Jones. Besides the weekly radio broadcasts, Pat plays nationwide and teaches at such popular music camps as Augusta Heritage Center and Rocky Mountain Fiddle Camp.
Pat's musical tastes are eclectic. Though he considers himself foremost a folk guitarist, Pat's influences are rooted in bluesmen Blind Blake, Robert Johnson, Charlie Parker, Duke Ellington, Muddy Waters and Miles Davis. He manages to blend jazz and blues with folk, and the mix is seamless. Over the years he has captivated audiences with his unique original compositions, dazzling instrumentals and humorous song parodies, including "Sushi-Yucki" and "Would You Like to Play the Guitar?".
Honors include a 2005 Grammy for his participation on Pink Guitar, a compilation of Henry Mancini tunes on acoustic guitar, several Minnesota Music Awards, and the title of 1983 National Finger Picking Guitar Champion. His original tunes have been recorded by Chet Atkins, Suzy Bogguss and Kenny Rogers. Pat has also been a featured performer at major music festivals including the Newport, Telluride and Philadelphia Folk Festivals.
LEARN MORE: https://www.patdonohue.com/