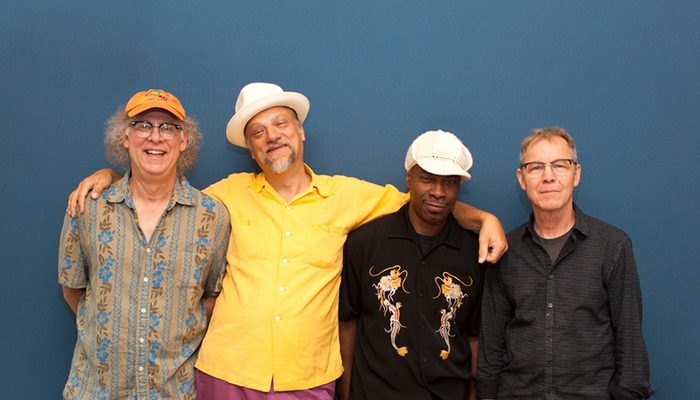 "rootsy and soulful and eminently danceable" – VitaMN
Paul Cebar Tomorrow Sound are the latest in Fresh Venerable. Benefiting from years of unassuming and understated hipness, they bring forth a funky, lyrically charged racket that sits comfortably with soulful sounds the world over.
Intricate but free-swinging, explosive yet intimate, fresh and green as grass.
Taking cues from the dance bands of western Louisiana (and his native Midwest), the streets of New Orleans, touring African and Caribbean combos and the soul, funk & blues of his youth coupled with early teeth-cutting experience in the verbal hotbeds of the coffeehouse scene, Cebar is a masterful synthesist of rhythmic culture.
Tomorrow Sound are an elite crew of offhand adepts who bring plenty of their own wood to the fire. Drummer Reggie Bordeaux casts his nets with a mystifying subtlety, bringing his own fleet-footed refinement and grease. Multi-instrumentalist Bob Jennings lends his bandleader the luxury of implying a much larger ensemble with his multi-hued contributions on keys and reeds. Bassist Mike Fredrickson (a distinguished singer-songwriter in his own right) anchors and prods with the best of them.
Jake La Botz's music balances the wisdom and patience of his decades of Buddhist training with the grit and vigor of his Chicago upbringing to create a sound that's at once unabashedly vintage and decidedly present. His writing is raw and direct, cutting straight to the heart of things with honesty and urgency, fueled by lean, spacious arrangements centered around La Botz's well-worn vocals.
Add it all up and you've got a spiritually enlightening dose of neo-noir American roots from a writer who's unafraid to wear his soul on his sleeve, an alternatingly dark and hopeful collection that tips its cap to everyone from Tom Waits and Leonard Cohen to Nick Lowe and Elvis Costello as it ruminates on compassion and vulnerability, strength and surrender, growth and redemption.
LEARN MORE: https://paulcebar.com/
LEARN MORE: https://www.jakelabotz.com/