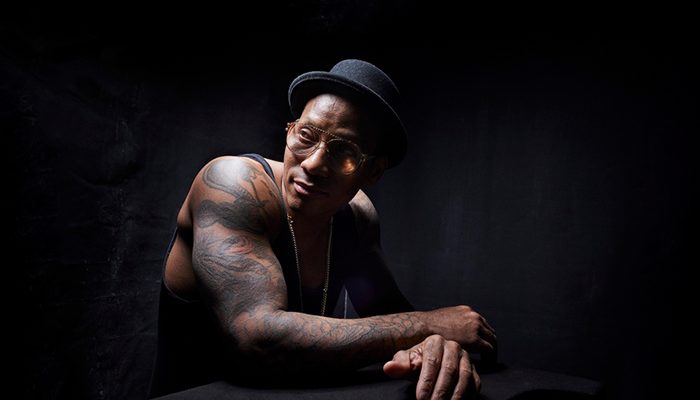 "sublime… mind-blowing drumming skills" – NPR
Pedro Pablo "Pedrito" Martínez was born in Havana, Cuba, in the Cayo Hueso neighborhood, where rumba is played all day long. Pedrito began his musical career at the age of 11, with a foundation in the rumba and Afro-Cuban Yoruba traditions.
Since settling in New York City, Pedrito has recorded or performed with Paul Simon, Wynton Marsalis, Paquito D'Rivera, Bruce Springsteen, Ruben Blades, Eddie Palmieri, Dave Matthews, and Sting, and has contributed to over 75 albums.
A consummate master of Afro-Cuban folkloric music and the batá drum, he is also the world's first-call rumbero—playing, singing, and dancing with dozens of Cuban rumba groups.
Pedrito was a founding member of the highly successful Yerba Buena, with which he recorded two albums and toured the world in the mid-to-late 1990s.
Mr. Martínez's career as a leader began in 2005 with the formation of The Pedrito Martínez Group. He has recorded four solo albums, the first one of which was nominated for a Grammy in 2013 and was chosen among NPR's Favorite Albums and The Boston Globe Critics Top Ten Albums of the same year.
In February 2019, Pedrito and Cuban pianist Alfredo Rodriguez released a duo album called Duologue to critical acclaim. Quincy Jones was the executive producer.
In July 2019 Pedrito and Eric Clapton recorded a newly arranged version of Clapton's song "My Father's Eyes," for a Pedrito Martínez album, called Acertijos (Riddles). The two performed the song together at Clapton's Crossroads Festival in Dallas.
Pedrito was involved through 2020 in streamed projects including Play On for CBS with Jon Batiste, and the NEA Awards at SF Jazz. And he was named, for the seventh time in nine years, Jazz Percussionist of the Year, by the Jazz Journalists Association.
Recommended for Fans of Giovanni Hidalgo, Rumba Calzada, Isaac Delgado and Harold López-Nussa.
LEARN MORE: https://www.pedritomartinezmusic.com/