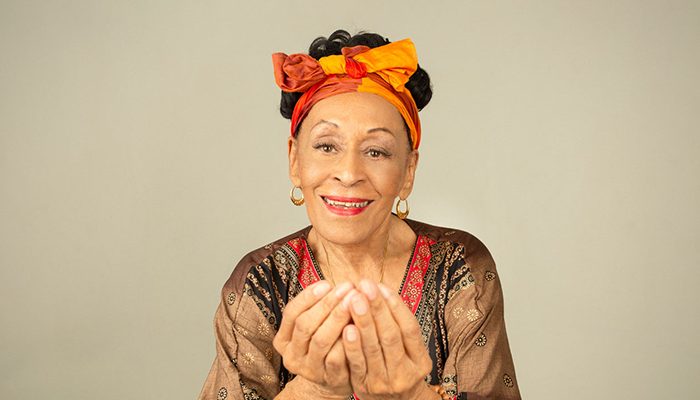 "one of Cuba's most exalted singers" – Rolling Stone
Omara Portuondo is one of Cuba's greatest vocalists and has been very popular from the day she started singing professionally in the late forties. From 1950 through the late 1960s, she was Cuba's top performer of songs in the filin style (the word is taken from the English word feeling, and describes music inspired by the performances of Frank Sinatra, Mel Torme, and Glenn Miller, among others). At the height of her popularity, Portuondo sang with many different groups, always with great success.
She started her professional career at the Cabaret Tropicana in Havana in 1930, and in the 1950s she began her international career backing Nat King Cole. In 1997, at the age of 67, Omara became The Diva of Buena Vista Social Club, crowning her fame after half a century of a huge national and international solo career.
In the 21st century, Portuondo began to receive the global recognition commensurate with a career of her stature. Omara won her first Latin Grammy Award for Best Contemporary Tropical Album along with a Latin Grammy Lifetime Achievement Award in 2009. She received three Grammy Award nominations in 2019, and in 2021, Omara was awarded the Gold Medal for Merit in Fine Arts by the Spanish Ministry of Culture and Sports, in a ceremony presided over by the King and Queen of Spain, and she won the prestigious Songlines Pioneer Award for her lifelong contribution to Cuban music and culture.
Throughout her storied life and career, Portuondo has used music to connect with fans in profound and unexpected ways, transcending borders while honoring the soul of her beloved Cuba. To this day, Portuondo is still referred to as "The Cubanísima Omara Portuondo", or "The Diva of Buena Vista." She is a genuine symbol of her country's deep and enduring culture.
Recommended for Fans of Buena Vista Social Club, Tito Puente, Beny Moré and Ruben Gonzalez.
LEARN MORE: https://www.omaraportuondo.com/