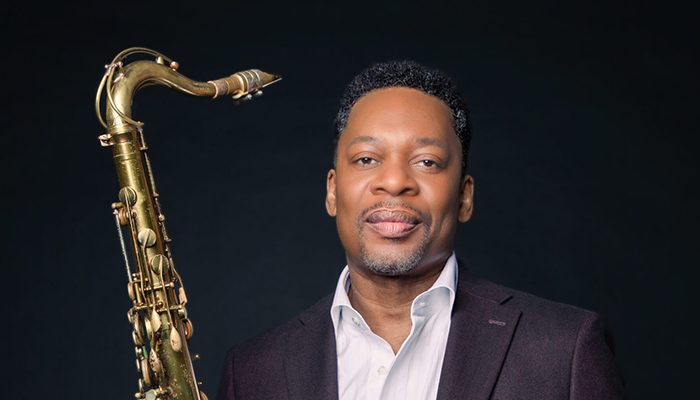 "There are few saxophonists in jazz today as silvery and deft as Ravi Coltrane." – New York Times
Ravi Coltrane is a critically acclaimed, Grammy-nominated saxophonist, bandleader, and composer. In the course of a twenty-plus-year career, Mr. Coltrane has worked as a sideman to many and recorded noteworthy albums for himself and others.
Ravi has released six albums as a leader. His albums include Moving Pictures, From The Round Box, Mad 6, In Flux, Blending Times, and Spirit Fiction. He also has collaborated on various albums, including Seraphic Light with Joe Lovano and David Liebman, In Movement with Jack DeJohnette and Matthew Garrison, and The Blue Note's 70th Anniversary recording, Mosaic: A Celebration of Blue Note. Additional credits include performances as well as recordings with Elvin Jones, Terence Blanchard, Kenny Baron, Steve Coleman, McCoy Tyner, Jack DeJohnette, Matt Garrison, Jeff 'Tain' Watts, Geri Allen, Joanne Brackeen, The Blue Note 7, among others.
Born in Long Island, the second son of John Coltrane and Alice Coltrane, Ravi was named after Indian sitar legend Ravi Shankar. He was raised in Los Angeles where his family moved after his father's death in 1967. His mother, Alice Coltrane, was a significant influence on Ravi and it was he who encouraged Alice to return to performance and the recording studio after a long absence. Subsequently, Ravi produced and played on Alice Coltrane's powerful Translinear Light, which was released in 2004.
Ravi lives in Brooklyn, NY, and maintains a fast-paced touring, recording, composing and performance schedule. He leads the effort to restore the John Coltrane Home in Dix Hills, Long Island www.thecoltranehome.org and presides over important reissues of his parents' recordings.
Ravi Coltrane – saxophone
Luis Perdomo – piano/keys
Mark Whitfield, Jr. – drums
Recommended for Fans of Joshua Redman, Kenny Garrett, Joe Lovano and David Liebman.
LEARN MORE: https://ravicoltrane.com/
📸: Erin O'Brian