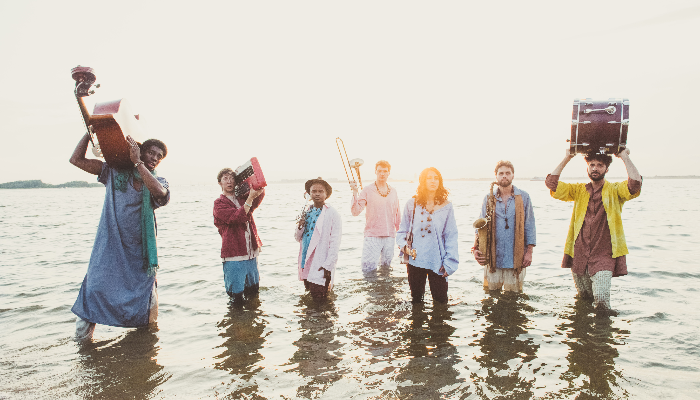 "Sammy Miller and The Congregation is a triple-threat. They are superb musicians, play engaging and inventive music, and are thoroughly entertaining."
– Absolutely Live Entertainment
_____________________________________
THIS SHOW HAS BEEN POSTPONED
Information regarding a rescheduled date will be announced as soon as possible. Tickets purchased for the originally scheduled performance will remain valid for the new date, you will receive an email with the new date once it has been rescheduled.
______________________________________
Sammy Miller and The Congregation are on a mission, crisscrossing the country like a vaudevillian revival show with evangelic fervor for music. The seven-piece band is pulling people out of their solitary lives and putting them in the moment with a bracing dose of joyful jazz performed with infectious theatricality. The New York City-based, familial collective has captured its frenetic energy and unflinchingly optimistic songwriting on its debut album, Leaving Egypt.
Members:
Sammy Miller (drums, vocals)
Sam Crittenden (trombone)
Ben Flocks (tenor sax)
Molly Miller (guitar)
Alphonso Horne (trumpet)
Corbin Jones (bass, tuba)
David Linard (piano)
Join us for dinner before or during the show. Explore our menu >>  Did you know that we offer a premium seating option for those who pre-order a $39 food/beverage voucher? Call 612-332-5299 to learn more and order.
A native of Los Angeles, Grammy-nominated drummer Sammy Miller has become known for his relentless focus on making music that feels good as a drummer, singer, and bandleader. Upon completing his Master's at The Juilliard School, Sammy formed his ensemble, The Congregation.
While independently the band members have performed and recorded with notable artists including Wynton Marsalis, Lady Gaga, and Queen Latifah at venues including the White House, Lincoln Center and the Hollywood Bowl, they have opted to stick together to spread joy throughout the world.
Learn More: http://www.sammymillercongregation.com