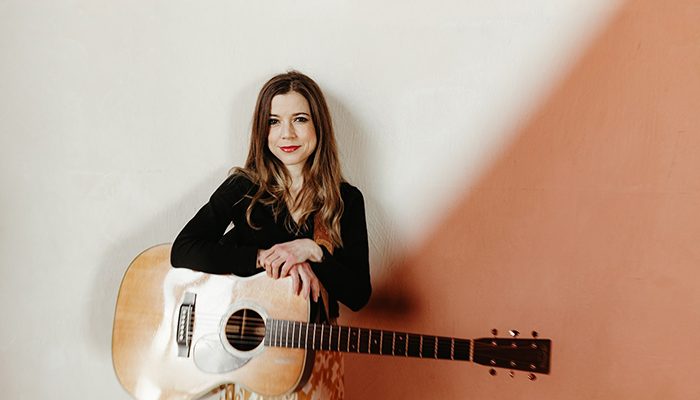 "Sarah soars with ease… Wow." – Americana Highways
Sarah Morris has a habit of missing the forest. From the day the Minneapolis-based singer-songwriter picked up a guitar, armed with the bone-deep memory of her parents' well-loved record collection, she's been too busy crafting love letters to the details of the trees. Morris' endearingly honest, expertly penned songs encourage audiences to pull away from the big picture and get caught up in the magic of our everyday minutia—the rainy day ache in her sunlit voice granting us permission to escape into stories at once hauntingly familiar and uniquely her own.
Here's To You, her 5th album of original material, sees Morris shedding some country swagger in favor of a lusher, more celestial sound. With layers of harmonies and synths orbiting the terra firma of her band's guitar, bass and drums, Morris' clarion voice shines brightly. Whether they're celebration songs, grief songs or gift songs, you feel devotion to her craft in every line. Produced by multi-instrumentalist Dave Mehling, Dave Franklin of The Big Takeover declared Here's To You '.. a triumph. An album of space and restraint, any note played, every word uttered feels perfectly and purposely placed.
Inclined toward the intimacy of live performance, Morris spends a remarkable amount of time on stage. Whether solo, backed by the country kick of her long-time band The Sometimes Guys or as half of vintage-harmony heavy duo The Home Fires with Vicky Emerson, her playful-hearted presence is both captivating and contagious. In addition to being a 2018 Kerrville New Folk winner, she recently earned third place at the 2023 Songwriter Serenade, as well as being chosen as a finalist for Telluride Troubadour, and taking 2nd place at the 2016 MerleFest Chris Austin Songwriting Competition. Morris has performed at Lincoln Center (New York), Dakota Jazz Club (Minneapolis) and Bugle Boy (La Grange).
Morris is deeply committed to the Twin Cities' life-giving music community. She hosts an online interview program called, "Hey, I Miss You," to amplify the work of her peers. Morris is head cheerleader for a local songwriting collective and collaborates with musicians for a Youtube series of under-rehearsed cover songs filmed in her laurel green bathroom. As a writer, lover, mother, and witness, Morris invites us to join her in missing the forest for the trees, with songs that count and celebrate the glorious details of our messy, magical, everyday lives.
LEARN MORE: https://sarahmorrismusic.com/