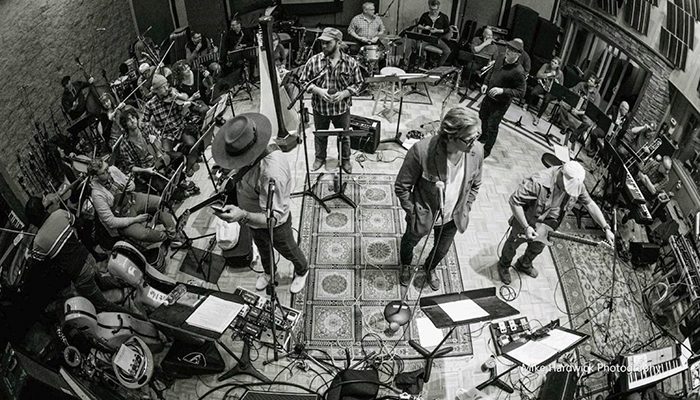 NEARLY SOLD OUT. Please contact the box office at 612-332-5299 for seating options.
Please note: this is a rescheduled performance originally set for May 20, 2022.
The Shabby Road Orchestra is an ad-hoc Minneapolis rock collective featuring members of The Honeydogs, Six Mile Grove, Greazy Meal, and The New Standards holiday show.
Beginning in 2017, the Shabby Road Orchestra has staged intermittent, sprawling and over-achieving live recreations of the Beatles iconic studio years albums, note-for-note complete with sound effects, harmonies, Lennon-esque idiosyncrasies and largely authentic instrumentation on the occasion of their 50th anniversary year.
The Shabby Road Orchestra will perform the band's iconic 1970 release, the subject of the recent Peter Jackson documentary Get Back, from start to finish. They will then return for a second set of material from Sgt. Pepper's Lonely Hearts Club Band, the White Album and Abbey Road.
The 12-piece Shabby Road Orchestra includes some of Minnesota's best musicians:
John Eller (The Shiny Lights) – Guitar, Vocals
Adam Levy (The Honeydogs) – Guitar, Vocals
Brandon Sampson – Guitar, Vocals
Tom "Spicy T" Scott – Keys, SFX, Percussion, Vocals
Ken Chastain (Beat The Clock, Greazy Meal) – Drums, Vocals
John Fields – Bass
Paul Scott – Piano
Dave Foley – Horns, Woodwinds
Andy Nelson – Woodwinds
Joe Carey – Guitar, Vocals
John Sievers – Horns
Jaqueline Ultan – Cello
Learn More: https://www.facebook.com/TheShabbyRoadOrchestra/