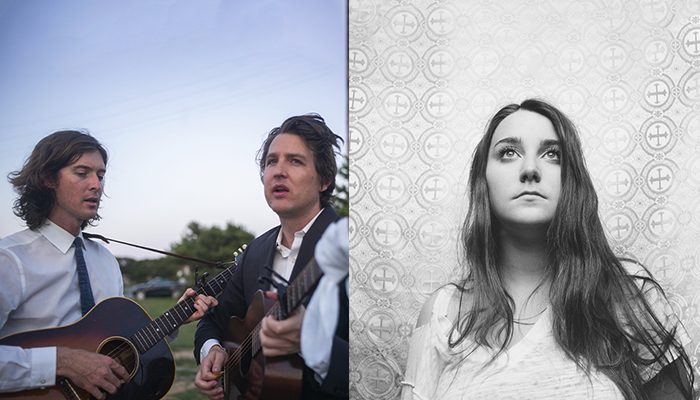 NEARLY SOLD OUT. Please contact the box office at 612-332-5299 for seating options.
"part Simon and Garfunkel and part Everly Brothers" – New York Times
"Katie Pruitt's voice is like a kite soaring through the sky of her songs." – NPR
Listening to The Milk Carton Kids – Joey Ryan and Kenneth Pattengale – talk about their creative process, it's easy to imagine them running in opposite directions even while yoked together. "Joey and I famously have an adversarial relationship," Pattengale says. They dig at each other in interviews and on stage, where Ryan plays his own straight man, while Pattengale tunes his guitar. The songs emerge somewhere in the silences and the struggle between their sensibilities. They have been known to argue over song choices. They have been known to argue about everything from wardrobe to geography to grammar. But their singing is the place where they make room for each other and the shared identity that rises out of their combined voices. Defying the conventions of melody and harmony is a strategy The Milk Carton Kids have consciously embraced.
While The Milk Carton Kids' most obvious frame of musical reference is the classic folk sound of twin acoustic guitars and close harmonies, the band both expands and contradicts that rich legacy. The music strikes listeners immediately with its sweet, bluegrass-inflected simplicity, but underneath snake Pattengale's sinuous modal guitar lines, sounding for all the world like a jazzified Bert Jansch dropped in to jam with the Everly Brothers. The harmonies of Pattengale and Joey Ryan, while recalling classic brother duos from the Louvins to the Everlys, achieve a richness that blends into a vivid unit. The New York Times praises The Milk Carton Kids as "a sweetly dazzling variation on close-harmony vocals, part Simon and Garfunkel and part Everly Brothers, with occasional acoustic prestidigitation."
With a narrative voice at turns poetic and unaffected, Katie Pruitt treads endlessly complex emotional ground: mental illness, toxic relationships, the frustration and shame of growing up gay in the Christian South. But by speaking her truth with sensitivity and grit, Pruitt ultimately arrives at a self-acceptance that's both hard-won and happily defiant. Her songs gracefully showcase her captivating voice—an instrument that alternately soars and howls and softens to a near-whisper. While she purveys a guitar-fueled sound steeped in folk and country and rock-and-roll, each track stays centered on the lucid songwriting that recently landed Pruitt on a "20 Artists To Watch In 2019" from NPR.
LEARN MORE: https://www.themilkcartonkids.com/