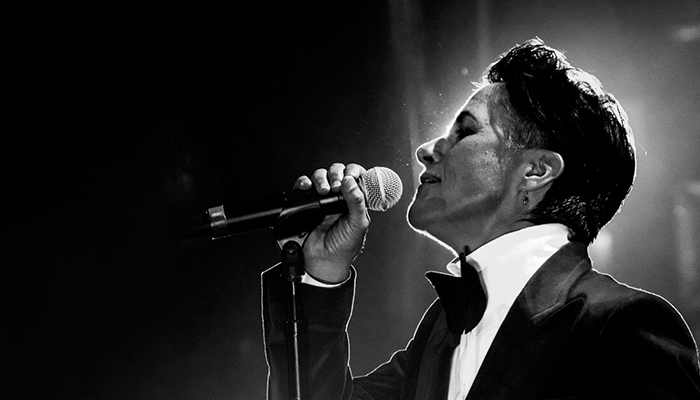 "one of the most potent singers to ever come out of the Twin Cities." – Star Tribune
In an evening like no other, Tina Schlieske returns to her hometown to croon the classics made famous by the likes of Frank Sinatra, Nina Simone, Billie Holiday, Tony Bennett, and more.
Tina Schlieske originally hails from Minneapolis, MN and is best known for fronting the band Tina and the B-Sides. The band released several albums on their own label Movement Records before getting signed to a major record deal in 1996. The band released two albums for Sire, with their songs featured in commercials and major movie soundtracks. Tina and band shared stages with Lenny Kravitz, The Wallflowers, Indigo Girls and Etta James, as well as collaborating with artists like Stewart Copeland and Me'Shell Ndegeocello.
When the B-Sides took a hiatus in 1999, she toured with Double Trouble (Stevie Ray Vaughan's band) and released several solo projects. While her band gave her the opportunity to cultivate her original songwriting, her solo career has included explorations into other songbooks she loves. In 2008 Schlieske released Evil Gal Blues, an homage to her favorite female blues singers. She covered songs by artists like Big Mama Thornton, Memphis Minnie, Jessie Mae Hemphill, Etta James, and Aretha Franklin. 2013's One Of The Boys was a tribute to the Minneapolis music scene that influenced Tina so much. She covered the songs of Soul Asylum, Hüsker Dü, Bob Dylan, Jayhawks, The Replacements and Prince.
In 2014 Tina and the B-Sides came back together to record Barricade, their first studio album in over ten years. Several reunion shows ensued, to the joy of her fans. Tina currently lives in California and divides her time between playing on the West Coast and returning to Minnesota for her residency, as well as occasional B-Side shows in the Midwest.
LEARN MORE: http://tinaschlieske.com