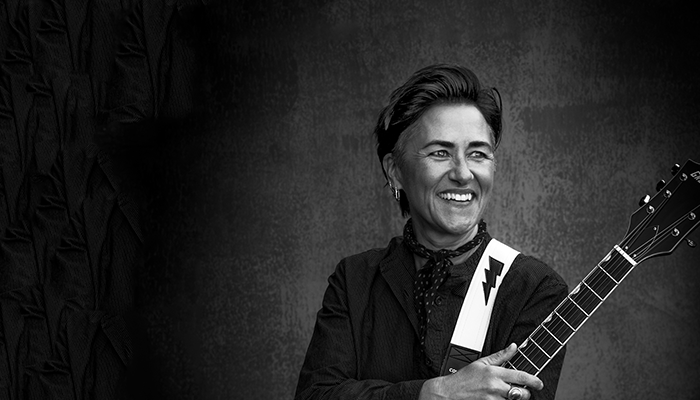 "Smart, sensitive, earthy singer-songwriter with a superb voice and a musical reach" — Daily Vault
Side Two: A special evening where Tina showcases her rock side, featuring a mix of Tina and the B-sides, her solo albums and covers by artists that inspire her.
Tina Schlieske is Midwestern rock mainstay, commanding a dedicated and passionate following, especially in her hometown of Minneapolis. She's best known for fronting the band Tina and the B-Sides.
Schlieske grew up inspired by the diverse Minneapolis music scene, and you can hear and see the many influences in her writing and performances.
She draws creative energy from a wide spectrum of rock, soul, Americana, and singer-songwriters with her own brand of electrifying live performances.
With the B-Sides, Tina released several albums on her own label, Movement Records. Then a chance meeting in an elevator with Sire Records president Seymour Stein led to a deal with the famed label and two more albums, 1996's "Salvation" and 1998's "It's All Just the Same." Their music has been featured in major motion pictures and Schlieske was even courted to portray Janis Joplin in a Paramount Studios biopic during that period.
After the B-Sides took a hiatus in 1999, she garnered rave reviews as the touring rhythm guitarist and lead singer for the late Stevie Ray Vaughn's band, Double Trouble, and released several solo albums; "Slow Burn", "Evil Gal Blues" and "One Of The Boys-Pinned Up".
She has shared stages with Lenny Kravitz, The Wallflowers, the Indigo Girls, Etta James, and more recently Jeff Bridges and Robert Ellis. She has also collaborated with such renowned musicians as Don Heffington (Dylan, Emmy Lou Harris), Benmont Tench (Tom Petty), Marc Ford (The Black Crowes) and Rami Jaffe (The Wallflowers), Stewart Copeland (The Police), Me'Shell Ndegeocello and Elvis Presley's longtime guitarist, James Burton.
LEARN MORE: https://tinaschlieske.com/home
PHOTO CREDIT: Darin Back