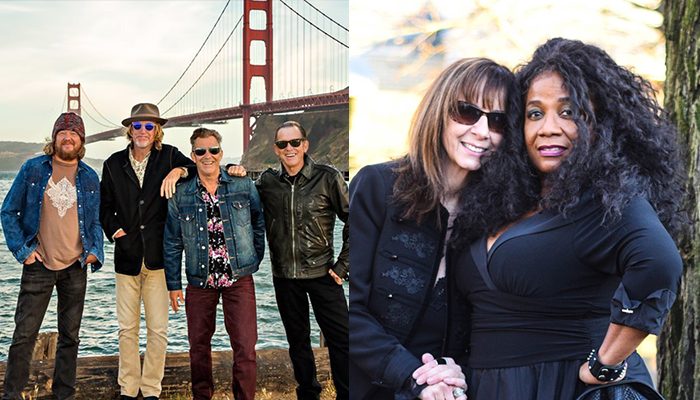 "Sizzling, slow-burning, gritty blues and rock" –Living Blues
The road has always been Tommy Castro's home away from home. He'll instantly ignite a crowd, turn them into loyal fans and then keep those fans coming back for more. He has traveled hundreds of thousands of miles and performed thousands of gigs, leading his bands at clubs, concert halls, and festivals all over the world.
Through its 13 songs, new album A Bluesman Came To Town tells the tale of a young man working on his family farm who gets bitten by the blues bug. He masters the guitar and heads out on the road seeking fame and fortune, only to find what he's left behind is the treasure he's been looking for.
Soulful Femme claimed national attention in 2021 with their debut album,  It Is Well  My Soul. The Pittsburgh-based blues duo has spent five years establishing themselves as a powerhouse musical presence.
Stevee Wellons, Vocalist
Stephanie Wellons, (Stevee), has been performing for the last 25 years and is known for her high-energy stage presence.  Since her 20s, Stevee has performed with numerous area bands and currently teaches and coaches voice at the prestigious Afro-American Institute in Pittsburgh. An experienced recording artist, Stevee has recorded in Pittsburgh, New York, Chicago and Baltimore.
Cheryl Rinovato, Guitarist
A Berklee College of Music graduate, Cheryl began her musical career as a studio musician known for her distinct interpretation style. Since moving to Pittsburgh, she has pursued her musical career as a professional musician and has done extensive studio work. She has won the prestigious Jim Weber Award, given to blues guitarist of the year, three times; in 2012, 2013 & 2015.
COVID-19 Policy
Effective immediately, all performances at the Dakota will require either proof of a full course of COVID-19 vaccination or proof of a negative COVID-19 test taken in the prior 72 hours. Patrons must have a completed COVID-19 vaccination card or a photo of their card, with their final dose at least fourteen days prior to the event, or a negative COVID-19 test result from 72 hours or less prior to the event. Thank you for helping to keep everyone safe. More COVID Policy details here >>
Learn More: https://www.tommycastro.com/