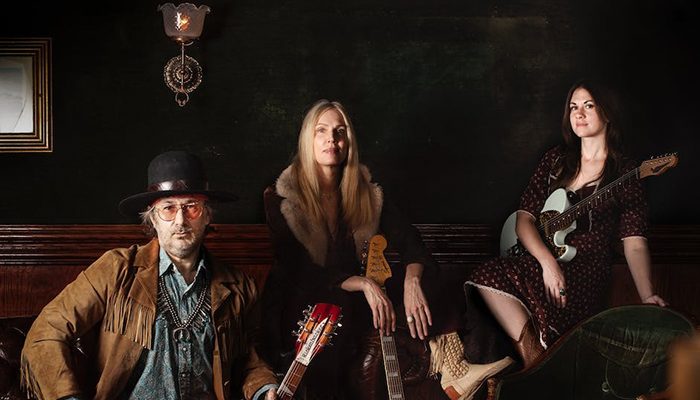 "Gorgeous harmonies and beautiful finger-picking" – Americana UK
Buoyed by the positive reception of their 2020 debut album, Can't Go Back, the Minneapolis/Eau Claire-based Americana trio, Turn Turn Turn, drew inspiration from the recent pandemic/political zeitgeist and penned more than two dozen songs in 2021. Half of the material made its way onto the band's sophomore effort, 2023's New Rays From an Old Sun.
Barb Brynstad (bass and vocals), Savannah Smith (guitar and vocals), and Adam Levy (guitars and vocals) tracked most of the new record at Levy's apartment in St. Paul's Schmidt Artists Lofts. The band also enlisted its core members, drummer Josh Kaplan and keyboardist Peter J. Sands, to lend their musical talents, resulting in a sonic mix that is multilayered and nuanced.
Adam Levy is regarded in the U.S. and abroad as a gifted multi-instrumentalist and singer, whose songwriting captures "the zeitgeist of our time" (Paste). He has led numerous musical projects in multiple genres for the past 20+ years and is widely known as the leader and founding member of the Minnesota-based alt-rock band The Honeydogs.
Singer-songwriter Savannah Smith has been charming audiences in Eau Claire and Minneapolis for the better part of a decade with her dreamy, introspective material. Her evocative performances showcase a seasoned musical intelligence that belies her age.
Also, a veteran of the Twin Cities music scene, Barb Brynstad is a singer, bassist and guitarist who has collaborated on theater and dance projects and played with some of the top blues, folk, and pop acts, including Willie Murphy, Chastity Brown and Tina Schlieske.
Together, they are Turn Turn Turn.
Featured in Paste Magazine, NME, and American Songwriter, Dickie has focused on crafting beautiful, introspective songs in the vein of Andrew Bird, Elliot Smith, and Phoebe Bridgers. His extensive touring history has found him sharing stages with Wilco, Young the Giant, and Justin Townes Earle. Dickie's latest album, "Minus Thieves," gave the production reins over to Wilco's Pat Sansone and studio partner Joshua Shapera. He's currently working on his 2023 release.
Molly Dean is involved in a multitude of creative projects as a vocalist, instrumentalist & composer. Her music has been described as "deceptively simple" and her presence "enrapturing – a songstress that eschews archetypal female folkisms with subtle rebellion."
From performing her original music at the Guthrie Theater, to singing duets with Garrison Keillor on A Prairie Home Companion, to opening for Atmosphere at Bayfront Festival Park, to being featured on the cover of Vita.MN magazine representing one of the top four bands in the Twin Cities, you will find that Molly Dean truly does revel in the creative diversity of it all.
LEARN MORE: https://www.turnturnturnmpls.com/
Recommended for Fans of Tina Schlieske, Eilen Jewell, The Cactus Blossoms and Margo Price.
PHOTO: Shelly Mosman