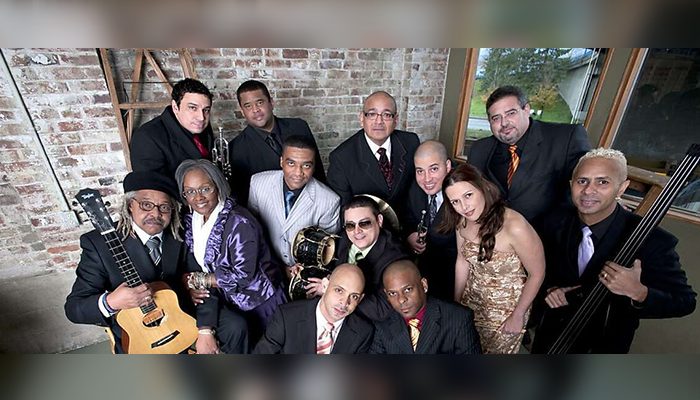 "delirious brass, trance piano patterns and irresistible rhythms which [get] the entire audience dancing… it's actually hard to beat this kind of music – soulful, technically brilliant, sexy and uplifting." – The ArtsDesk
Led by Juan de Marcos (co-creator of Buena Vista Social Club), the Afro-Cuban All Stars (ACAS) is a unique orchestra; devoted to promoting the complete story of Cuban music. With each show the orchestra exposes Cuba's rich musical history interpreting all of its musical genres.
With the Afro-Cuban All Stars, Juan de Marcos has developed much more than a musical group, he created an institution. With this formula Juan stretches his creative wings; fusing contemporary, traditional and in essence, the future styles of Cuban music.
Juan de Marcos Gonzalez is the architect of the Buena Vista Social Club. After gaining international fame for reviving the classic sound of Cuban son, the tres master turned the Afro-Cuban All Stars into a sensational showcase for Cuba's most prodigious young musicians. While long revered in Latin America and Europe as a founding member of Cuba's great son revival band Sierra Maestra, de Marcos first gained notice in the US as creator, founder and musical director of the Buena Vista Social Club. It was de Marcos who assembled Ibrahim Ferrer, Pio Leiva, Manuel Licea "Puntillita", Omara Portuondo, Ruben Gonzalez and the rest of the crew for World Circuit after he and Nick Gold agreed to produce a couple of albums in Havana featuring illustrious old timers and tributing the golden period of the Cuban Popular Music.
But de Marcos is just as interested in promoting Cuba's brilliant young musicians as in highlighting Cuba's senior talent. The Afro-Cuban All Stars not only features a multi-generational cast, but the group also draws on both classic Cuban styles like son and danzón and contemporary dance rhythms like timba. Afro-Cuban All Stars is the band you can watch on stage in films such as Wenders' Buenavista Social Club and Knox's Afro-Cuban All Stars at the Salon of Dreams.